48HourVisit.com

Planning a short visit? Check out

48HourVisit.com

, your online guide for short stays and weekend getaways.

Ad

The Glossary

Carinderia - "the Philippine equivalent of a canteen, it serves mostly classic Filipino food at knock-down prices."
Philippines Travel Guide

/
Asia
/
Philippines
/ Introduction
Known as Southeast Asia's "Pearl of the Orient," the Philippines is an archipelago of 7,107 islands. The northern side of Luzon is the mountainous region of the country and is home to the capital, Manila. In the middle is Visayas, home to the country's best beaches. Capping of the country's diversity is the southern region of Mindanao, where most of the Muslim population resides. Wherever visitors go, they are welcomed by the warm smiles and hospitable nature of Filipinos.
A Cultural Buffet
Filipino culture is similar to neighboring Asian countries but is also dominated by Spanish and American influences. The official language, Filipino, borrows Spanish terms and most locals have Spanish surnames. Many Filipinos are updated with American pop culture and have adopted the system of fast food chains. The adaptation of foreign culture is what makes Filipino culture strangely familiar and unique at the same time.
Filipinos express their hospitality best in holding their festivals and serving their local dishes. Popular foods include adobo, kare kare, lechon, and crispy pata. Within the major cities are authentic Italian, Japanese, and Chinese restaurants comparable to their original.
Indigenous Diversity
Popular Filipino culture may have foreign influences but provincial tribes have retained their historical identities and cultures. The indigenous tribes' traditions have survived the reign of Spanish and American colonization. The most notable of these tribes are the Ifugaos, who were responsible for carving out the Banaue Rice Terraces from the mountains. The Banaue is fed from an ancient irrigation system in the rainforests located above the terraces.
The southern islands of Mindanao are the most distinct of Philippine cultures, having kept the Islam influence from Arab traders in the 13th century. The presence of Muslim culture is cultivated by the Maranao, Tausug, and Banguingui ethnic groups.
Philippines Landmarks:
Philippines Traveler Advice
Philippines photography
no title by
HolidayLover
no title by
chinxlexy
no title by
HolidayLover
no title by
chinxlexy
User blogs: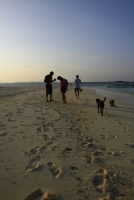 A trip to Siargao
Seeing people that are "living their dream" is always inspirational, it looks so rewarding and peaceful, breaking from the chains of conformism, doing what you always dreamt to do since you were a kid, it doesn't have to make you huge loads of money or bring you world fame just a feeling of self fulfillment, last time I checked, you can't put a price tag on that one. In Siargao ... Read full Blog post
San Gimignano and San Pellegrino
Night falls on the flourishing and industrious San Gimignano, its 72 towers stand on the low roofs of the houses lit by the moon. This is not a luxury travel spot but is something you don't see every day. In the distance the clatter of hooves echoed tired in the Via Francigena. The hand of the blacksmith stops beating, the frame of the weaver becomes silent, the streets of the tank only a concert ... Read full Blog post