Exploring California's Venice Beach
Apr 16, 2010 |
Around the world
|
0 Comments
The sunny state of California is known for its pleasant, warm weather and picturesque beaches. One of the most popular beachside areas in Southern California is the Venice neighborhood. Surfers frequent Venice beach to catch a wave along the Pacific Ocean. The houses in this area are surrounded by canals replicating the scenery in Venice, Italy. Although the houses do not come close to what Italy has to offer, their architecture and peaceful atmosphere make them worth traveling for. The canals were founded by Abbot Kinney in 1905. The scenic canal neighborhood is located along Washington, Pacific Avenue, Ocean Avenue, and South Venice Boulevard.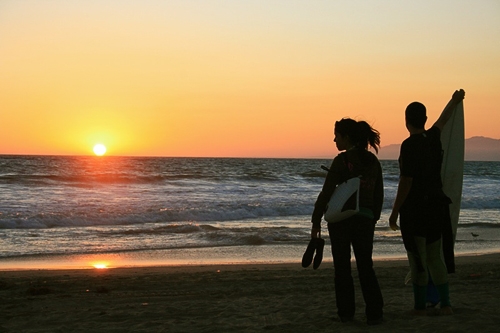 Most travelers come to California's Venice for the beach. The Pacific Ocean is accessed through the Ocean Front Walk or "the boardwalk," which comes alive with entertainment during the summer months. Expect to see a variety of performances, vendor stands, jugglers, fire eaters, palm readers, and fortune tellers. There are also many restaurants to choose from, and they serve anything from large grilled burgers to Mexican dishes. Other recreational activities can be done in Venice Beach's paddle tennis court, bike trail, handball court, and Skate Dancing Plaza.
The Venice Fishing Pier is located on the beach's southern area. Visitors can watch surfers catch a wave along the Venice Breakwater, found south of the Santa Monica Pier and north of the Venice Pier. Non-surfers can simply enjoy the seaside scenery and the unconventional entertainment along the boardwalk. Bodybuilding buffs can drop by Muscle Beach, where former actor and current governor Arnold Schwarzenegger had bulked up his body.
Visitors who are after retail-related entertainment can enjoy the shops and establishments in Downtown Venice. Abbot Kinney, Main Street, and Grand Boulevard comprise the downtown area. Entertainment establishments here include vintage apparel shops, art galleries, nightclubs, and bars. Shops here sell a variety of items that range from high- to low-priced. Customers willing to spend more can buy a pair of designer boots from Mona Moore. Those who wish to complete their summer look with shades can buy from A. Kinney Court or Aviator Nation. The latter also sells vintage shirts in a quaint, '70s-inspired environment. A. Kinney Court includes vintage eyeglass frames and designer shoes in its stock.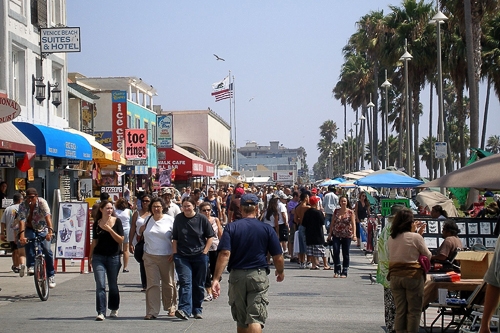 The downtown also has its share of notable food and drink establishments. One popular restaurant is the Tasting Kitchen, known for its extraordinary dishes of pork, beans, and carrots. For a quick and tasty refreshment, drop by the Lemonade Café. The summer heat can be beat with their ginger peach lemonade. This café also serves all kinds of salads, ranging from sesame vinaigrette to watermelon radish. The night comes alive in the Urbanic Paper Boutique, known for its live band entertainment and street parties.
Apart from its unique shops and entertainment, Venice is also a meeting place for Californian artists. From the 1950s to the 1960s, it served as the birthplace of the Beat generation. Famous names such as Tony Scibella, Philomene Long, Saul White, John Thomas, and Philomene Long took part in the generation's contributions in art and poetry. Famous musicians and actors also reside in Venice. Prominent celebrity residents include Julia Roberts, Brandon Boyd of Incubus, Kate Beckinsale, Red Hot Chilli Peppers' John Frusciante, Fiona Apple, and Nicolas Cage.
"Travelers who are after the sunny side of Southern California can visit the beautifully eccentric Venice Beach, also known as Arnold Schwarzenegger's Muscle Beach, home to Hollywood royalties Julia Roberts, Kate Beckinsale, and Nicolas Cage."