48HourVisit.com

Planning a short visit? Check out

48HourVisit.com

, your online guide for short stays and weekend getaways.

Ad
Czech Republic Travel Guide

/
Europe
/
Czech Republic
/ Introduction
The picturesque country of Czech Republic is wondrous with over 2,000 castles, chateaux, cobbled streets, impressive castles, rolling hills, quaint cathedrals, dense forests, marvelous museums and spa resorts. The land of Martina Navratilova and Ivan Lendl, Czech Republic will enthrall you.
The capital Prague, is certainly one of the most beautiful cities in the world! Located on the banks of River Vltava, Prague, boasts of several architectural marvels in Gothic, Baroque, Belle Epoque and Romanesque styles. The historical centre covering 866 hectares is included in the UNESCO list of World Cultural Heritage.
The best way to view Prague is from Charles Bridge which offers a fantastic view of Vltava earning Prague the name of "Fairyland City". This stone bridge connecting the Old Town and Lesser Town, has lined on it, arty people-musicians, painters, vendors and Haloween style beggars. Within, is a Sculpture Gallery. Not only will you load your camera will more rolls, but you'd want to camp right on the bridge!
You'll be transported to another era, as you find old horse-driven carriages and vintage cars at the Old Town Square. The Astronomical Clock looks ancient and elegant. Jewish Town contains about six synagogues. The Prague Castle is a must-see, surrounded by Ledeburg Garden, and The Small and Big Palffy Gardens and so are St. Vitua Cathedral and St. George Basilica. The Lesser Town boasts of 17th and 18th century palaces. You'd want to buy charming match-boxes, elegant blown glasses and crystals and wooden toys.
Southern Bohemia is a land of quaint castles, chateaux and lakes. Aptly called Bohemia, it's certainly paradise on earth, with its pristine lakes and virgin forests. Cesky Krumlov is a charming town, included in the UNESCO list. The Zvikov Castle and monasteries will make you fall in love with the world.
Northern Bohemia is a haven for trekkers and skiers, given the mountainous terrain. Western Bohemia is famous for its spas, especially Frantiskovy Lazne containing 24 springs, used to cure infertility and heart problems. Karlsbad is famous for its sulphur springs. East Bohemia looks enchanting with castles and peculiar rock-formations.
Called the "Green Roof" of Europe, Sumava is a long forested mountain, with bewitching valleys, mountain meadows, folk buildings and ridges, making it a very romantic place. Ski slopes are aplenty. The town of Pilsen is synonymous with the pilsner beer, invented here. The UNESCO biosphere reserve is partially located here.
Your trip is incomplete without a stay at the Czec-Moravian Highlands, aptly called "Green Heart", with clean environs. The atmosphere has inspired many sculptors, artists, composers and writers!
Southern Moravia is a land of contrasts, with Lowlands and hill-slides, beautiful vineyards and wine cellars. Time stands still, as folk costumes, ancient buildings, folk music enthrall you at the Slovacko region. The limestone Hills of Pavlovske is very recommended and so is The Podyji National Park. Valtice Complex is famous for its two chateaux. The Vala'sko, Northern Moravia has many wooden cottages and churches.
User blogs:
The Easy Way to Find Your Next Flight
Not everyone has experienced the convenience of looking for and booking air travel online. For some people who are not used to online shopping, or for those learning how to browse for the first time it can be a little intimidating at first. It seems like there are a lot of advertisements telling people where to go to book their flight online, but not many articles that take a step-by-step approach ... Read full Blog post
The biggest problem traveling with Bike
The biggest problem for traveling by bike is Transport to the start and from the end of our trip. As a personal trainer I had no big problem with this but I remember like it was yesterday, especially when they come these hot days, when we were kids (that a few decades ago) the only opportunity we had to practice was to grab our bikes cycling, upload them to the door of our house and out from ... Read full Blog post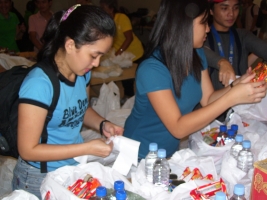 Volunteering for typhoon Ketsana victims
"There's nothing stronger than the heart of a volunteer," says a general in the movie Pearl Harbor. True enough, typhoon Ondoy (internationally nicknamed Ketsana) may have proven its might by destroying hundreds of lives and hundreds more in houses and properties, yet this monster-of-a-calamity did not win in devastating the faith and Good Samaritan-spirit of thousands of men and ... Read full Blog post