48HourVisit.com

Planning a short visit? Check out

48HourVisit.com

, your online guide for short stays and weekend getaways.

Ad
The Indian Ocean is a vast expanse of water that washes three continents- Asia, Australia and Africa. At some places it allows land to break through and form spectacular topographies. Such islands are sought after by those who wish to befriend a calm, clear sea. Of the many islands that lie here, Mauritius is the most beautiful. It is surprising how such a pearl could have been ignored by the Arab seafarers. Rediscovered in 1505 by the enterprising Portuguese, Mauritius changed hands till 1968. The Dutch, French and the British colonized it for three and a half centuries. It retains the French influence, mostly in language.
The island nation is entirely a tourist's paradise. Be it the sea or the villages. The beaches of white sand and turquoise waters are a delight any day. Add to this, the coral reefs with their teeming marine life. The Pereybere public beach, the recently renovated La Cuvette beach, The Blue Bay and The Trou aux Biches are compulsory on the sunbather's and swimmer's itinerary. Nature has decorated the land as well with a variety of plant and animal species. These can be seen in the various national parks and game reserves. The Black River Gorges, Domaine du Chasseur and the Yemen Reserve house the remaining native forest, exotic fauna and herds of deer respectively. The Casela contains 140 different species of birds apart from other zoo animals. Ile aux Aigrettes is the last home to some extremely rare winged creatures.
One can indulge in a variety of water sports in the Waterpark Leisure Village and Ile aux Cerfs. History can be seen in the remains of forts and buildings of the colonizers at Balaclava ruins, Dutch ruins, Martello Towers and Eureka. Beautiful remnants of volcanic activity are on display at Ganga Talao and Chamarel and Rodrigues Island. If you are done with swimming in the crystal waters, try other water sports like parasailing, underwater walking, submarine scootering etc. One can play with the giant tortoises at the Crocodile Park. Speedboat rides, diving, hiking and Blue Safari deserve to be in your organizer.
One's stay there is bound to be comfortable with the number of lodging and boarding options that are available across various price slabs. The different settlers from France, India, China and Africa have gifted rich recipes that please the palate in more ways than one.
User blogs:
The Easy Way to Find Your Next Flight
Not everyone has experienced the convenience of looking for and booking air travel online. For some people who are not used to online shopping, or for those learning how to browse for the first time it can be a little intimidating at first. It seems like there are a lot of advertisements telling people where to go to book their flight online, but not many articles that take a step-by-step approach ... Read full Blog post
The biggest problem traveling with Bike
The biggest problem for traveling by bike is Transport to the start and from the end of our trip. As a personal trainer I had no big problem with this but I remember like it was yesterday, especially when they come these hot days, when we were kids (that a few decades ago) the only opportunity we had to practice was to grab our bikes cycling, upload them to the door of our house and out from ... Read full Blog post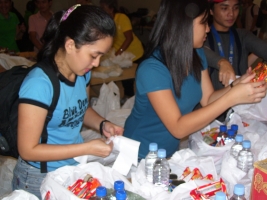 Volunteering for typhoon Ketsana victims
"There's nothing stronger than the heart of a volunteer," says a general in the movie Pearl Harbor. True enough, typhoon Ondoy (internationally nicknamed Ketsana) may have proven its might by destroying hundreds of lives and hundreds more in houses and properties, yet this monster-of-a-calamity did not win in devastating the faith and Good Samaritan-spirit of thousands of men and ... Read full Blog post