48HourVisit.com

Planning a short visit? Check out

48HourVisit.com

, your online guide for short stays and weekend getaways.

Ad

The Glossary

Goulash - "Traditional Hungarian soup usually made of beef, red onions, vegetables, spices and lots of sweet paprika powder."
If Europe is a seven-course dinner, Hungary deserves to be called dessert. Sweet, serene scenery is complemented by a cordial population which cares for cleanliness and respect. A host of several World Heritage Sites add to the quaint attraction of this gem set in the heart of the continent. Bordered by tourist-favored countries like Austria, Romania and Ukraine, it figures among the 15 most popular destinations on earth.
It has had a stable history with Kingdom of Hungary through the 2nd millennium. Such peaceful reigns gave the country its numerous castles and churches, making it the cultural center of Europe at various points in history. The collapse of the Eastern Bloc has been followed by a quick rise in the charts of GDP and Human Development Index.
The stupendous line-up of world-class attractions deserves personal visits. The points of interest are both natural and man-made. Hungary with its hundreds of thermal springs is home to the second largest thermal lake in the world- Lake Heviz. The baths and spas are built on these thermal springs. Prominent among these are the medicinal Szechenyi baths in Budapest and the cave baths at Miskolc-Tapolca.
Hortobagy, the largest natural grassland in Europe is worth exploring on horseback. The mountains house beautiful caves of Aggtelek Karst and Slovak Karst that feature stalagmites and dripstones. The Danube flowing through these hills waters the biggest lake in Central Europe- Lake Balaton.
Nestling in the rocks, specimens of baroque architecture at Eger speak fluently about the grand history of Europe. Esztergom has the biggest church in Central Europe. The towns of Kecskemet, Szekesfehervar, Godollo and Vac too have buildings that remind of the glorious past of this country. Even the village of Holloko is so well-preserved that it is on UNESCO's list. Be it the cultural landscape of Ferto and Tokaj or the Necropolis at Pecs, the richness of their heritage is coveted around the world.
Don't worry about the stamina required to walk around these landmarks as the Hungarian fare is delectable to the last bit. Paprika is universally found in dishes, especially goulash. Goose meat is prepared in a variety of ways to pamper the taste buds.
Moving around the countryside is easier by car on highways. Trains connect the cities well. The general etiquette requires you to speak softly and avoiding political topics.
Hungary Traveler Advice
Hungary photography

Skenzen by
TravelBug
User blogs:
The Easy Way to Find Your Next Flight
Not everyone has experienced the convenience of looking for and booking air travel online. For some people who are not used to online shopping, or for those learning how to browse for the first time it can be a little intimidating at first. It seems like there are a lot of advertisements telling people where to go to book their flight online, but not many articles that take a step-by-step approach ... Read full Blog post
The biggest problem traveling with Bike
The biggest problem for traveling by bike is Transport to the start and from the end of our trip. As a personal trainer I had no big problem with this but I remember like it was yesterday, especially when they come these hot days, when we were kids (that a few decades ago) the only opportunity we had to practice was to grab our bikes cycling, upload them to the door of our house and out from ... Read full Blog post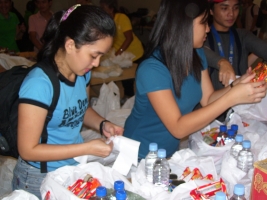 Volunteering for typhoon Ketsana victims
"There's nothing stronger than the heart of a volunteer," says a general in the movie Pearl Harbor. True enough, typhoon Ondoy (internationally nicknamed Ketsana) may have proven its might by destroying hundreds of lives and hundreds more in houses and properties, yet this monster-of-a-calamity did not win in devastating the faith and Good Samaritan-spirit of thousands of men and ... Read full Blog post