48HourVisit.com

Planning a short visit? Check out

48HourVisit.com

, your online guide for short stays and weekend getaways.

Ad
Turkmenistan Travel Guide

/
Asia
/
Turkmenistan
/ Introduction
Because it is an isolationist nation ruled by a "president for life," Turkmenistan has harbored the same mysticism that cloaks North Korea, making Turkmenistan be called the "North Korea of Central Asia." Turkmenistan may be bigger than California and nearly as large as Spain, but 80 percent of this vast country is a lunar landscape: the Garagum (Kara-kum or Black Sand) Desert is one of the driest places on Earth. All of the nation's few cities, however, are important Silk Road stopovers, with UNESCO World Heritage Sites and rambling reminders of empires from decades past.
Legendary leaders
Saparmurat Niyazov, the country's post-Soviet leader, has declared himself as the country's "President for Life," thereby ordering palaces, gold statues, marble monuments, and other billion-dollar constructions to be built in the capital, Ashgabat, to glorify himself. Although he died in 2007, Niyazov is still honored like a god all over the country, outshining Turkmenistan's past kings and conquerors like Alexander the Great and Genghis Khan.
Middle Eastern culture
Apart from Niyazov, the Turkmen today generally worship Allah. They are proud of their Islamic heritage, shamanism, nomadic ways, and national emblem, Akhal-Teke horse, a breed of fast and sturdy horses rarely found anywhere else on Earth. Unlike their black-clad counterparts from the rest of the Islamic world, the Turkoman women wear colorful ankle-length dresses and headscarves, bedecked with Turkmen motifs. The Turkomans' yomut and Bokhara carpets are famous since the ancient times for their fiery red color and geometric designs.
Gates of hell, slices of paradise
Another fiery wonder in Turkmenistan is Darvaza Flaming Crater, believed to be "the gates of hell" for its non-stop fire triggered by natural gases. Kow Ata, an underground sulfur lake, is famous for its warm and medicinal waters. Kugitang, a nature reserve, has fossils of human and dinosaur footprints.
User blogs:
The Easy Way to Find Your Next Flight
Not everyone has experienced the convenience of looking for and booking air travel online. For some people who are not used to online shopping, or for those learning how to browse for the first time it can be a little intimidating at first. It seems like there are a lot of advertisements telling people where to go to book their flight online, but not many articles that take a step-by-step approach ... Read full Blog post
The biggest problem traveling with Bike
The biggest problem for traveling by bike is Transport to the start and from the end of our trip. As a personal trainer I had no big problem with this but I remember like it was yesterday, especially when they come these hot days, when we were kids (that a few decades ago) the only opportunity we had to practice was to grab our bikes cycling, upload them to the door of our house and out from ... Read full Blog post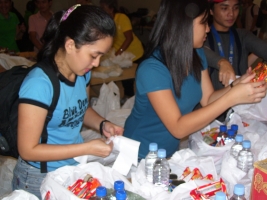 Volunteering for typhoon Ketsana victims
"There's nothing stronger than the heart of a volunteer," says a general in the movie Pearl Harbor. True enough, typhoon Ondoy (internationally nicknamed Ketsana) may have proven its might by destroying hundreds of lives and hundreds more in houses and properties, yet this monster-of-a-calamity did not win in devastating the faith and Good Samaritan-spirit of thousands of men and ... Read full Blog post