48HourVisit.com

Planning a short visit? Check out

48HourVisit.com

, your online guide for short stays and weekend getaways.

Ad
United Kingdom Travel Guide

/
Europe
/
United Kingdom
/ Introduction
England, Scotland, Wales and Northern Ireland constitute the United Kingdom. Though constituting four parts of the Union, these territories maintain distinct cultural identity. The island of Great Britain a term denoting England, Scotland and Wales taken together is separated from the continent of Europe by English Channel, with northwest tip of France only 35 kilometers away.
However, despite its proximity to mainland Europe, the United Kingdom displays a marked cultural uniqueness. Being one of the wealthiest countries in the world, and one which has had profound influence on world's political developments, it has attracted immigrants from all over the globe. This, perhaps, has contributed in making culture of this country unique and cosmopolitan in character.
Stonehenge, located near Salisbury in England, stands testimony to the pre-historical glory of this land. It is one of the best known Neolithic and Bronze Age monument and an important landmark in the United Kingdom. Bath, also in England, is a historical Roman city. It is famous for its Georgian architecture and Roman baths, which are legacy of the splendor of Roman Empire that thrived here in 43 AD.
London is the capital of the United Kingdom and a melting pot of myriad cultures of the world. Big Ben, the 96 meter high clock tower, Buckingham Palace, the residence of sovereigns, and Tower Bridge are some of iconic landmarks of this great city. Edinburgh, the capital of Scotland, is also termed as the Athens of the North. It attracts tourists because of its numerous classical monuments, the most important one being Edinburgh Castle, and characteristic Scottish atmosphere.
Wales is known for its breathtaking landscapes and seaside resorts. Snowdonia and Brecon Beacons National Parks are excellent for hiking and walking. Belfast, the capital of Northern Ireland is fast gaining ground as a popular destination. The ill-fated ship, Titanic, was built in one of the docklands of this city. Brighton, near London, is perhaps the most popular beach resort in the United Kingdom. Sea Life Center in this city features an aquarium with an underwater tunnel. The North Laine tolerates alternativism, while there is a designated nudist beach as well.
United Kingdom Traveler Advice
User blogs:
The Easy Way to Find Your Next Flight
Not everyone has experienced the convenience of looking for and booking air travel online. For some people who are not used to online shopping, or for those learning how to browse for the first time it can be a little intimidating at first. It seems like there are a lot of advertisements telling people where to go to book their flight online, but not many articles that take a step-by-step approach ... Read full Blog post
The biggest problem traveling with Bike
The biggest problem for traveling by bike is Transport to the start and from the end of our trip. As a personal trainer I had no big problem with this but I remember like it was yesterday, especially when they come these hot days, when we were kids (that a few decades ago) the only opportunity we had to practice was to grab our bikes cycling, upload them to the door of our house and out from ... Read full Blog post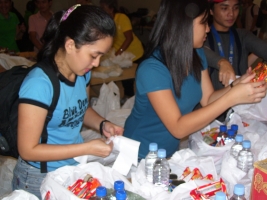 Volunteering for typhoon Ketsana victims
"There's nothing stronger than the heart of a volunteer," says a general in the movie Pearl Harbor. True enough, typhoon Ondoy (internationally nicknamed Ketsana) may have proven its might by destroying hundreds of lives and hundreds more in houses and properties, yet this monster-of-a-calamity did not win in devastating the faith and Good Samaritan-spirit of thousands of men and ... Read full Blog post