48HourVisit.com

Planning a short visit? Check out

48HourVisit.com

, your online guide for short stays and weekend getaways.

Ad
Canary Islands Travel Guide

/
Africa
/
Canary Islands
/ Introduction
When it comes to subtropical climate, culture, white-sand beaches, and general party-like mood, the archipelago of the Canary Islands on the west coast of Africa is more Latin American than African. This may not come as a surprise for some travelers as these islands between the Portuguese archipelagos of Madeira Islands and Azores Islands are an autonomous territory of Spain, and each islet in this Spanish-termed Islas Canarias has something unique to offer: from the turquoise beaches of Antigua and the extreme sports of Fuerteventura to the volcanoes and biosphere reserves of La Palma and Lanzarote.
Since the Canary Islands have become endeared to many European holidaymakers, all the major destinations here are equipped with European-standard airports, ports, and telecommunication systems. Although Spanish is the official language, English is widely spoken by the locals.
The national capitals are Santa Cruz de Tenerife and Las Palmas de Gran Canaria. Santa Cruz de Tenerife, or simply Tenerife, is the Canaries' largest island that nestles Spain's highest elevation and the third-biggest volcano in the world, El Tiede or Pico del Tiede. Tenerife's largest city and ancient capital, San Cristobal de la Laguna, is a World Heritage Site as it was the stage of the historic Battle of Aguere.
Las Palmas de Gran Canaria, or simply Las Palmas, is often regarded as the "Summer Capital of the Canaries" for enjoying an all-year-round subtropical climate, which scientists consider as "the world's best climate." The attractions here include archaeological galleries such as Museo Canario; science and ecological libraries like La Biblioteca Simón Benitex Padilla, and festivals like Canary Islands Music Festival.
Sharing the same time zone as London is Lanzarote, an ancient Phoenician, Roman, and Arab island-town where volcanic eruptions continue up to the modern times. A UNESCO Biosphere Reserve, Lanzarote focuses its spotlight on the volcanic landscape, cactus gardens, caves, "desert resorts," and rock formations of Timanfaya National Park. At the stroke of night, the whole island transforms from a desert town into a bar-hopping central.
Another Biosphere Reserve, El Hierro, is the Canaries' smallest island considered as the "Edge of the World" since it is marked as zero meridian on the world map. Flora and fauna in this island is rich, enabling travelers to indulge in scuba diving, horseback riding, paragliding, and hiking.
Canary Islands Landmarks:
User blogs:
The Easy Way to Find Your Next Flight
Not everyone has experienced the convenience of looking for and booking air travel online. For some people who are not used to online shopping, or for those learning how to browse for the first time it can be a little intimidating at first. It seems like there are a lot of advertisements telling people where to go to book their flight online, but not many articles that take a step-by-step approach ... Read full Blog post
The biggest problem traveling with Bike
The biggest problem for traveling by bike is Transport to the start and from the end of our trip. As a personal trainer I had no big problem with this but I remember like it was yesterday, especially when they come these hot days, when we were kids (that a few decades ago) the only opportunity we had to practice was to grab our bikes cycling, upload them to the door of our house and out from ... Read full Blog post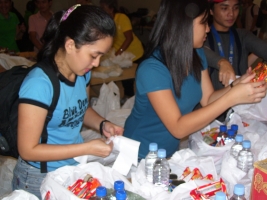 Volunteering for typhoon Ketsana victims
"There's nothing stronger than the heart of a volunteer," says a general in the movie Pearl Harbor. True enough, typhoon Ondoy (internationally nicknamed Ketsana) may have proven its might by destroying hundreds of lives and hundreds more in houses and properties, yet this monster-of-a-calamity did not win in devastating the faith and Good Samaritan-spirit of thousands of men and ... Read full Blog post