48HourVisit.com

Planning a short visit? Check out

48HourVisit.com

, your online guide for short stays and weekend getaways.

Ad
Montserrat Travel Guide

/
Caribbean
/
Montserrat
/ Introduction
Montserrat is a British territory and part of the chain of islands called the Lesser Antilles located in the Caribbean Sea. Christopher Columbus gave the island its name in 1493 but nowadays it is often referred to as the "The Emerald Isle of the Caribbean." A quiet haven of extraordinary beauty, Montserrat is blessed with gorgeous coastlines, dramatic rock cliffs and smooth bottomed sandy beaches scattered among coves. The country that inspired a Paul McCartney song, Montserrat has since seen many famous visitors that included the likes of Princess Margaret, Elton John, and Eric Clapton.
For the astute nature lover, however, Montserrat is much acclaimed for its huge jagged pillars composed of strikingly pink conglomerates and rocks on the ridges of Sant Jeroni (Saint Jerome). On the mountains monasteries abound. The Santa Maria Monestir de Montserrat, despite located at the top of Montserrat Mountain and accessible only through railway, is known to have thousands of visitors a year. Tourists have marveled at its simple yet elegant architecture. Montserrat or "Serrated Mountain" to the locals is to many visitors both a natural and spiritual sanctuary. As one of the holiest places in Catalonia, Monestir de Montserrat (Monastery of Montserrat) has become the center of the Catalan faith. Pilgrims are staged here every year. One of them, the "La Moreneta," or the Black Madonna, attracts visitors from across the globe for its miraculous healing powers.
Montserrat is also covered in lush green rainforest with exotic black sand beaches such as Woodland Beach and Carr's Bay. The black color of the beach sand results from Montserrat's many active volcanoes that spew ashes around coastlines and hillsides.
User blogs:
The Easy Way to Find Your Next Flight
Not everyone has experienced the convenience of looking for and booking air travel online. For some people who are not used to online shopping, or for those learning how to browse for the first time it can be a little intimidating at first. It seems like there are a lot of advertisements telling people where to go to book their flight online, but not many articles that take a step-by-step approach ... Read full Blog post
The biggest problem traveling with Bike
The biggest problem for traveling by bike is Transport to the start and from the end of our trip. As a personal trainer I had no big problem with this but I remember like it was yesterday, especially when they come these hot days, when we were kids (that a few decades ago) the only opportunity we had to practice was to grab our bikes cycling, upload them to the door of our house and out from ... Read full Blog post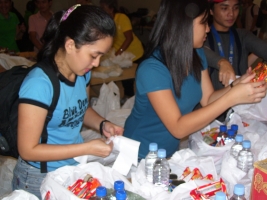 Volunteering for typhoon Ketsana victims
"There's nothing stronger than the heart of a volunteer," says a general in the movie Pearl Harbor. True enough, typhoon Ondoy (internationally nicknamed Ketsana) may have proven its might by destroying hundreds of lives and hundreds more in houses and properties, yet this monster-of-a-calamity did not win in devastating the faith and Good Samaritan-spirit of thousands of men and ... Read full Blog post