48HourVisit.com

Planning a short visit? Check out

48HourVisit.com

, your online guide for short stays and weekend getaways.

Ad
Although a small nation, Austria is one of the richest countries on Earth. Its location in the Alps makes it the "winter sports capital" of Europe, together with neighboring Switzerland. It is, however, just as popular among summer tourists for its historic cities, lush vegetation, castles, and theaters playing the opuses of some of the country's most popular residents, Ludwig van Beethoven and Wolfgang Amadeus Mozart, from which Austria owes its title, "the classical music capital of the world."
Movers and shakers
Apart from Mozart and Beethoven, famous composers such as Joseph Haydn, Johann Strauss Sr. and Jr., and Franz Schubert were born in Austria, so are scientists like Johannes Kepler; philosophers like Ludwig Wittgenstein; artists like Ernst Haas; filmmakers such as Billy Wilder; poets like Rainer Maria Rilke; Nobel Prize winners like Daniel Kehlmann; and Hollywood actors like Arnold Schwarzenegger.
Architectural gems
Today, the works of such great Austrians are celebrated in the capital and largest city, Vienna, home to architectural feats such as the Vienna Opera House, Vienna State Opera Museum, St. Stephen's Cathedral, and Schonbrunn Palace. Schonbrunn is the "Versailles of Austria" and a World Heritage Site featuring rococo artworks, extensive manicured gardens, and Roman ruins, which have been filmed as settings in movies such as James Bond. The palace's Hall of Mirrors is where Mozart first performed for Empress Maria Theresa, while the Orangery outside of the palace was the arena of Mozart and Salieri's showdown. Like the palace, the castles of Burg Hohenwerfen and Liechtenstein exemplify 18th-century Baroque style.
Nature and energy
Along Vienna runs the European Union's longest river, Danube, whose Danube Delta is a World Heritage Site that supports migratory birds. Around the capital are meadows, woodlands, vineyards, semi-arid steppes, farms, and alpine valleys like Zell am See, St. Anton, and Pinswang, which set the stage for many activities like alpine skiing, snowboarding, ski-jumping, ice hockey, and football. Salzburg, Mozart's birthplace, is also known for its rolling hills featured in the film, The Sound of Music. Linz, Kepler and Hitler's hometown, is still full of life due to its annual Bruckner Festival and the futuristic arts and science center, Ars Electronica.
Austria Traveler Advice
User blogs:
The Easy Way to Find Your Next Flight
Not everyone has experienced the convenience of looking for and booking air travel online. For some people who are not used to online shopping, or for those learning how to browse for the first time it can be a little intimidating at first. It seems like there are a lot of advertisements telling people where to go to book their flight online, but not many articles that take a step-by-step approach ... Read full Blog post
The biggest problem traveling with Bike
The biggest problem for traveling by bike is Transport to the start and from the end of our trip. As a personal trainer I had no big problem with this but I remember like it was yesterday, especially when they come these hot days, when we were kids (that a few decades ago) the only opportunity we had to practice was to grab our bikes cycling, upload them to the door of our house and out from ... Read full Blog post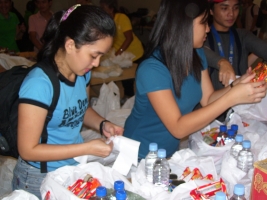 Volunteering for typhoon Ketsana victims
"There's nothing stronger than the heart of a volunteer," says a general in the movie Pearl Harbor. True enough, typhoon Ondoy (internationally nicknamed Ketsana) may have proven its might by destroying hundreds of lives and hundreds more in houses and properties, yet this monster-of-a-calamity did not win in devastating the faith and Good Samaritan-spirit of thousands of men and ... Read full Blog post