48HourVisit.com

Planning a short visit? Check out

48HourVisit.com

, your online guide for short stays and weekend getaways.

Ad
Puerto Rico Travel Guide

/
Caribbean
/
Puerto Rico
/ Introduction
Puerto Rico offers an amazing variety to vacationers. Ranging from forest hiking to a lazy day out on one of its beaches, it affords all. However, geographical diversity only partly accounts for it. The vivid social life of this land, which is a fascinating amalgamation of Indian, African, Spanish and U.S. cultures, plays an equally important part in nurturing this diversity. Puerto Rico is a Caribbean archipelago, west of the Virgin Islands and east of the Dominican Republic. Culebra, Mona and Vieques are other important islands of this archipelago. International Airport in San Juan, the capital of Puerto Rico, is a travel hub of Caribbean, providing an easy access to this interesting island.
Arguably, beaches are the most beautiful natural endowment of Puerto Rico. Whether one fancies hubbub of surfing waves, tranquility of sunbathing, adventure of water sports or romance of a moonlight walk on the sand, Puerto Rican coastline provides just the perfect opportunity. Calm emerald waters of Cana Gorda Public Beach of Guanica, on the southwest coast, is popular among local people. The Island of Gilligan is a snorkelers' delight and Guanica Forest Reserve nearby is a paradise for birdwatchers.
Rincon Bay, on the extreme west of Puerto Rico, is famous for the breathtaking view of the sunset. It is a surfing hot-spot of Caribbean, which has had to pride to host the World Surfing Championships (1968). The Mona Passage of migrating humpback whales, located in Rincon's neighborhood, is a popular spot for whale watching. Crashboat, Isla Verde, Shacks, El Escambron (San Juan), La Monserrate (Luquillo), Balneario de Carolina (Carolina), Punta Salinas (Toa Baja) and Seven Seas are other popular beach resorts dotting the coastline of Puerto Rico.
In terms of indulgence in activities, Puerto Rico lives up to its character of diversity. Golf enthusiasts can test their mettle in any one of over a score world class golf courses scattered across the island. Equestrians can appreciate the island's rich tradition of breeding Paso Fino horses and give their adrenalin a rush with a ride around the highlands of Jayuya. Resorts of Mayaguez, Rio Grande, Dorado and Ponce have charming and vibrant nightlife. There are also comfortable facilities for a wide range of water sports.
However, for those who wish to explore the heart of Puerto Rico, a heritage walk in the legendary Old San Juan may just be the most interesting thing to do. La Muralla, the city wall built in the 16th Century, Casa Blanca, once the residence of Juan Ponce de Len's descendants, now a museum and the fortress of El Morro, built in 1540, are just three of the countless heritage sites, which define Puerto Rico's character.
User blogs:
The Easy Way to Find Your Next Flight
Not everyone has experienced the convenience of looking for and booking air travel online. For some people who are not used to online shopping, or for those learning how to browse for the first time it can be a little intimidating at first. It seems like there are a lot of advertisements telling people where to go to book their flight online, but not many articles that take a step-by-step approach ... Read full Blog post
The biggest problem traveling with Bike
The biggest problem for traveling by bike is Transport to the start and from the end of our trip. As a personal trainer I had no big problem with this but I remember like it was yesterday, especially when they come these hot days, when we were kids (that a few decades ago) the only opportunity we had to practice was to grab our bikes cycling, upload them to the door of our house and out from ... Read full Blog post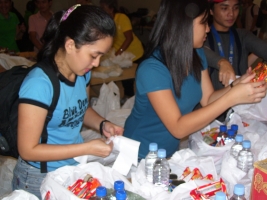 Volunteering for typhoon Ketsana victims
"There's nothing stronger than the heart of a volunteer," says a general in the movie Pearl Harbor. True enough, typhoon Ondoy (internationally nicknamed Ketsana) may have proven its might by destroying hundreds of lives and hundreds more in houses and properties, yet this monster-of-a-calamity did not win in devastating the faith and Good Samaritan-spirit of thousands of men and ... Read full Blog post