48HourVisit.com

Planning a short visit? Check out

48HourVisit.com

, your online guide for short stays and weekend getaways.

Ad

The Glossary

Fondas - "old country houses turned into restaurants, usually found in the Antioquia region."
Colombia Travel Guide

/
South America
/
Colombia
/ Introduction
For decades, Colombia's prosperity has been derailed by civil unrest and national turmoil. Back then, it was only known for its notorious drug dealers and leftist guerilla groups. Today, though, the country has made a complete about-face - and has reinvented itself as one of South America's hottest tourist destinations. The safest it has been for years, travelers are now coming in droves, with some 2.3 million of them arriving in 2008 alone.
It is not a single trait that captivates one about the country, but rather Colombia as a whole. Its diversity is perhaps linked directly to its location, tucked between Caribbean coastlines and the Amazon Basin. Not only that, its economic boom (being the third richest in Latin America) has also helped it usher into the modern age - filled with skyscrapers, a buzzing nightlife, and posh restaurants.
Paradise at the Equator
Colombia's strongest point is undoubtedly its natural beauty. Straddling the equator, the country basks under the sun which illuminates its dreamy landscape. Its beaches take center stage, as well as its jungles and the snowcapped mountains - especially the Pico Cristobal Colon, which at around 19,000 feet is the highest in the land. It also has island havens, particularly the volcanic isle of Providencia, whose tranquil waters are ideal for diving and swimming.
The town of San Gil is unofficially called the "adventure capital" of Colombia, known for its excellent rafting, paragliding, and rock climbing. The Tayrona National Park is also popular, home to diverse wildlife and perhaps the best-preserved coral reefs in the region. More importantly, the country's location makes it ideal for coffee-growing - in fact, roughly 12 percent of the world's coffee supply is grown there.
Magic Realism
While nature is the first reason to visit Colombia, its unique culture comes as a close second. Populated by more than 45 million people, the country is a melting pot of races - Native American, Spanish, Caribean, Middle Eastern, and African, as well as ethnic groups like the Tairona and Muisca. As such, it is home to a variety of unique festivals, the most popular of which are the Carnaval and Colombian Tomatina.
Colombia is also identified with the well-known dance called the salsa. In fact, at Cali (Colombia's salsa capital), learning the dance is a popular pastime. Not to mention that the nation has contributed much to the world in terms of art, producing literary giant Gabriel Garcia Marquez and music icon Shakira.
Colombia Traveler Advice
User blogs:
The Easy Way to Find Your Next Flight
Not everyone has experienced the convenience of looking for and booking air travel online. For some people who are not used to online shopping, or for those learning how to browse for the first time it can be a little intimidating at first. It seems like there are a lot of advertisements telling people where to go to book their flight online, but not many articles that take a step-by-step approach ... Read full Blog post
The biggest problem traveling with Bike
The biggest problem for traveling by bike is Transport to the start and from the end of our trip. As a personal trainer I had no big problem with this but I remember like it was yesterday, especially when they come these hot days, when we were kids (that a few decades ago) the only opportunity we had to practice was to grab our bikes cycling, upload them to the door of our house and out from ... Read full Blog post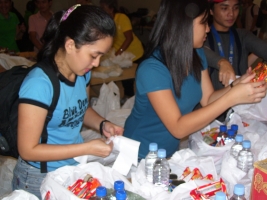 Volunteering for typhoon Ketsana victims
"There's nothing stronger than the heart of a volunteer," says a general in the movie Pearl Harbor. True enough, typhoon Ondoy (internationally nicknamed Ketsana) may have proven its might by destroying hundreds of lives and hundreds more in houses and properties, yet this monster-of-a-calamity did not win in devastating the faith and Good Samaritan-spirit of thousands of men and ... Read full Blog post