48HourVisit.com

Planning a short visit? Check out

48HourVisit.com

, your online guide for short stays and weekend getaways.

Ad

The Glossary

Vinaka - ""thank you" or "please""
Fiji Travel Guide

/
South Pacific
/
Fiji
/ Introduction
Fiji's beauty has been well-documented, with its white sand beaches, towering waves, and sun-kissed islands. Not surprisingly, the country has served as a setting of choice for Hollywood films depicting a slice of Eden on Earth. Perhaps the most famous of them are Castaway (starring the famous actor Tom Hanks) and The Blue Lagoon (the claim to fame of actress Brooke Shields). As such, the archipelago has also captured the imagination of many tourists, who have been coming to the country in the hundreds of thousands for decades.
Its location in the middle of the Pacific Ocean, isolated from metropolis-dominated countries, has only added to Fiji's allure. Thus, it has become a staple among backpackers and tourists looking for a haven away from the busy city life. That said, Fiji is not an undeveloped land. In fact, its capital, Suva, buzzes with nightlife and fine dining, and the country is one of the most prosperous among the Pacific Islands.
Soft Corals and Alabaster Beaches
Fiji's main attraction, without a doubt, is its immense natural beauty. Composed of 322 islands, the country is a paradise for the beach junkies, as well as adventure enthusiasts. It has approximately 1,129 kilometers of coastlines, which are just ideal for swimming and sunbathing. Canoeing and kayaking are also at a premium here, especially when navigating the mangrove-lined corridors separating most of its islands.
The archipelago is often dubbed as the "Soft Coral Capital of the World" - a well-justified claim given Fiji's collection of mostly untouched coral reefs. As such, diving and snorkeling are popular tourist activities, especially at Kadavu, Yasawas, and Taveuni, where the underwater scenery is simply breathtaking. The highlight for the adrenaline junkies, however, is surfing the world-famous "Cloudbreak" waves, which are at their roughest best at Taveuni and Mamanucas.
Meet the Friendliest People on Earth
Fijians are described as some of the friendliest people in the world. In fact, many claim that the country's best asset is not really its natural beauty, but the genuine smiles that trace the face of locals and greet tourists. The word "bula" or hello, welcomes the ears of arriving tourists - all the more reason to immerse oneself in the country's unique culture and traditions.
Fiji is truly a diverse country, and it shows as such in its colorful festivals which have been inspired by Hindu, Catholic, and indigenous beliefs. Examples that stand out are the Holi, Diwali, Hibiscus, Sugar, and Bula festivals. Visitors can also better immerse themselves in unique culture at ethnic villages in sites like Kadavu and Lao.
Fiji Traveler Advice
Fiji photography
User blogs:
The Easy Way to Find Your Next Flight
Not everyone has experienced the convenience of looking for and booking air travel online. For some people who are not used to online shopping, or for those learning how to browse for the first time it can be a little intimidating at first. It seems like there are a lot of advertisements telling people where to go to book their flight online, but not many articles that take a step-by-step approach ... Read full Blog post
The biggest problem traveling with Bike
The biggest problem for traveling by bike is Transport to the start and from the end of our trip. As a personal trainer I had no big problem with this but I remember like it was yesterday, especially when they come these hot days, when we were kids (that a few decades ago) the only opportunity we had to practice was to grab our bikes cycling, upload them to the door of our house and out from ... Read full Blog post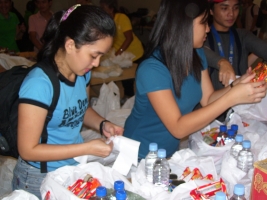 Volunteering for typhoon Ketsana victims
"There's nothing stronger than the heart of a volunteer," says a general in the movie Pearl Harbor. True enough, typhoon Ondoy (internationally nicknamed Ketsana) may have proven its might by destroying hundreds of lives and hundreds more in houses and properties, yet this monster-of-a-calamity did not win in devastating the faith and Good Samaritan-spirit of thousands of men and ... Read full Blog post