48HourVisit.com

Planning a short visit? Check out

48HourVisit.com

, your online guide for short stays and weekend getaways.

Ad

The Glossary

korkor - "traditional canoe, in which the Marshallese are master builders."
South Pacific Travel Guide

/
South Pacific
/ Introduction
The South Pacific area basically refers to the region which includes Australia, New Zealand, New Guinea and other islands. It also includes Oceania, a region which includes many islands in the southern Pacific Ocean. The local people are friendly and warm by nature. The food out here will offer new dishes to be tasted and tried out bravely. The South Pacific is mostly dominated by beaches with palm trees scattered all over them and beautiful waterfalls. You will also get a chance to observe tropical forests and craggy volcanic peaks. The whole region has comfortable villas to help you unwind from a hard year's work.
The South Pacific offers lovely holiday options like Samoa, Fiji, Tahiti, Easter Island, Cook Islands and Tonga which are just some of the places to be seen in this region. The warm weather will make the depression within you depart very easily. Travel light and use the bright sunny beach atmosphere to revive your spirits and rejuvenate your senses.
Get a proper sun tan by lazing around on the beaches of the Easter Islands. Catch moments on this piece of paradise to ponder on all the wonders of nature all around you.
Vanuata and Samoa can be visited exclusively for the water sports activities like swimming and scuba diving in the crystal clear waters. The eye-catching villas are close to nature so that you don't miss a single minute of admiring the endless beauty of nature.
If white sandy beaches appeals to your soul, head for Fiji and Tahiti which are islands popular for their dream surroundings. They also have coral reefs which can be observed by snorkeling around them. Rare species of fishes can be admired from a close distance. Cook your own food which will be freshly available or you can eat local meals at the restaurants displayed out here. Sea food is easily available because of the surroundings and can be very tasty when it is cooked according to the local recipes. The beaches around here have barbeque parties in the evening. Thus you can not only devour tasty meals but also unwind by partying non-stop here as the fun never stops in this region. Check and memorize the local songs and dances and absorb the local culture.
South Pacific Landmarks:
South Pacific Traveler Advice
User blogs:
The Easy Way to Find Your Next Flight
Not everyone has experienced the convenience of looking for and booking air travel online. For some people who are not used to online shopping, or for those learning how to browse for the first time it can be a little intimidating at first. It seems like there are a lot of advertisements telling people where to go to book their flight online, but not many articles that take a step-by-step approach ... Read full Blog post
The biggest problem traveling with Bike
The biggest problem for traveling by bike is Transport to the start and from the end of our trip. As a personal trainer I had no big problem with this but I remember like it was yesterday, especially when they come these hot days, when we were kids (that a few decades ago) the only opportunity we had to practice was to grab our bikes cycling, upload them to the door of our house and out from ... Read full Blog post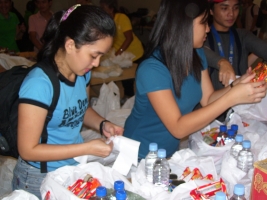 Volunteering for typhoon Ketsana victims
"There's nothing stronger than the heart of a volunteer," says a general in the movie Pearl Harbor. True enough, typhoon Ondoy (internationally nicknamed Ketsana) may have proven its might by destroying hundreds of lives and hundreds more in houses and properties, yet this monster-of-a-calamity did not win in devastating the faith and Good Samaritan-spirit of thousands of men and ... Read full Blog post