48HourVisit.com

Planning a short visit? Check out

48HourVisit.com

, your online guide for short stays and weekend getaways.

Ad
Martinique Travel Guide

/
Caribbean
/
Martinique
/ Introduction
Martinique is a mountainous and lushly forested island in the eastern Caribbean Sea. To the northeastern side of the island lies Dominica and to the south is Sta. Lucia. Although most of its inhabitants speak Antillean Creole, the official language is French. This stems from the fact that Martinique is one of 26 department of France. For years it has been the site of many Hollywood films, probably stemming from the beautiful contrasting colors of its beaches. In the north side area of the island is Mount Pelee, a volcano that spews ashes producing grey and black sandy beaches, while in Les Salinas in the south, pristine white beaches abound.
Often referred to as the Paris of the Lesser Antilles, Martinique is unique for its blend of French and Caribbean culture. The combination of modern sophistication and old world charm has attracted tourists for years. Shopping range from Gucci apparels sold in high-end shops to cheap Martinican Limoges porcelains found in the back-alleys of colonial houses and quaint hostels. Despite its image of exclusivity the diversity allows the more budget-conscious traveler to visit the country, thus, Martinicians enjoy one of the highest standards of living in the Caribbean region.
The diverse mix of English, French, Portuguese and Spanish influence have also contributed to its culinary reputation as one of the world's best. Tropical foods are a staple, allowing travelers to indulge in traditional French fare combined with compelling Creole dishes, and creations that fuse the two together.
The tropical climate that is in season all year long allows for lush vegetations and an abundance of natural resource, which help some of the most beautiful flowers in the world to bloom in this island. The highly prized ones can be viewed at the Garden of Balata and the Macintosh Plantation. A great diversion can be found in the island seaside that has mangrove swamps, cascades and tropical climate. Even Christopher Columbus was awed by the majestic spell that the island exudes and to this he once wrote, "It is the best, most fertile, the softest most charming place in the world."
User blogs:
The Easy Way to Find Your Next Flight
Not everyone has experienced the convenience of looking for and booking air travel online. For some people who are not used to online shopping, or for those learning how to browse for the first time it can be a little intimidating at first. It seems like there are a lot of advertisements telling people where to go to book their flight online, but not many articles that take a step-by-step approach ... Read full Blog post
The biggest problem traveling with Bike
The biggest problem for traveling by bike is Transport to the start and from the end of our trip. As a personal trainer I had no big problem with this but I remember like it was yesterday, especially when they come these hot days, when we were kids (that a few decades ago) the only opportunity we had to practice was to grab our bikes cycling, upload them to the door of our house and out from ... Read full Blog post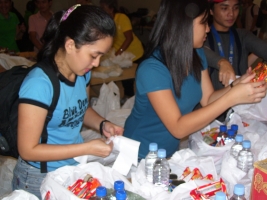 Volunteering for typhoon Ketsana victims
"There's nothing stronger than the heart of a volunteer," says a general in the movie Pearl Harbor. True enough, typhoon Ondoy (internationally nicknamed Ketsana) may have proven its might by destroying hundreds of lives and hundreds more in houses and properties, yet this monster-of-a-calamity did not win in devastating the faith and Good Samaritan-spirit of thousands of men and ... Read full Blog post