48HourVisit.com

Planning a short visit? Check out

48HourVisit.com

, your online guide for short stays and weekend getaways.

Ad
Belize Travel Guide

/
Central America
/
Belize
/ Introduction
There are few countries that glisten with influences of two distinct cultures. The Latin and Caribbean colors are reflected harmoniously in the tiny Central American nation of Belize. Once a colony of British Honduras, this land now basks in the glow of the tourism industry. It is bordered by Mexico and Guatemala on the west and washed by the warm waters of the Atlantic in the east.
It experiences a humid climate typical to tropical areas. Belize was tamed by the Mayan people in the past. Caribs followed them and mingled to give rise to the Garifuna (Black Caribs), an Afro-Amerindian culture. The British colonized the entire area, bringing English language and culture to lands and giving it the name it was known by - British Honduras.
The small state of Belize packs a lot of punch in terms of recreation and pleasure. One should to be prepared to spend at least a week to relish the stay. Once in Belize City, the capital, you have the option to head inland towards the monuments of ancient Mayan civilization or sample them in the museum. For those looking for speed, airboat rides in the marshes on the outskirts or cave-rafting are just the perfect activities. The Mayan ruins amidst dense forests rich in exotic plants are a wholesome experience. The sea, decorated with beautiful reefs, offers opportunities like fishing, swimming, snorkeling and diving. Scuba diving lessons are also given at select locations.
English being the official language, communicating is very easy. The essentials like bed, meals and trips are affordable with the Belize Dollar valued at half of US Dollar. The bus lines make your movement smooth within the borders and across. To get in or out, one may avail the flights and speedboats.
The staple diet of Belizeans is stomach-friendly. Rice, beans and chicken are cooked in a variety of ways and combinations to please the palate. Fresh citrus products are easily available. If one is a calorie-conscious traveler, one may try fruits like papaya, plantain, banana and pineapple in roadside markets. It is recommended to have plenty water to fight the tropical sun.
Belize Traveler Advice
User blogs:
The Easy Way to Find Your Next Flight
Not everyone has experienced the convenience of looking for and booking air travel online. For some people who are not used to online shopping, or for those learning how to browse for the first time it can be a little intimidating at first. It seems like there are a lot of advertisements telling people where to go to book their flight online, but not many articles that take a step-by-step approach ... Read full Blog post
The biggest problem traveling with Bike
The biggest problem for traveling by bike is Transport to the start and from the end of our trip. As a personal trainer I had no big problem with this but I remember like it was yesterday, especially when they come these hot days, when we were kids (that a few decades ago) the only opportunity we had to practice was to grab our bikes cycling, upload them to the door of our house and out from ... Read full Blog post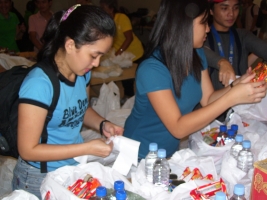 Volunteering for typhoon Ketsana victims
"There's nothing stronger than the heart of a volunteer," says a general in the movie Pearl Harbor. True enough, typhoon Ondoy (internationally nicknamed Ketsana) may have proven its might by destroying hundreds of lives and hundreds more in houses and properties, yet this monster-of-a-calamity did not win in devastating the faith and Good Samaritan-spirit of thousands of men and ... Read full Blog post