48HourVisit.com

Planning a short visit? Check out

48HourVisit.com

, your online guide for short stays and weekend getaways.

Ad

The Glossary

Serranos - "people of the highlands"
Ecuador Travel Guide

/
South America
/
Ecuador
/ Introduction
Ecuador actually means the "Republic of the Equator." It is a nod to the geographic line that bisects the country, dividing it between the northern and southern hemispheres. Being in the middle perhaps is one way to define the nation, especially when compared to its Latin American neighbors. It is neither too rich, nor too poor, as evidenced by its average 0.807 rating in the Human Development Index.
This even applies to its tourism industry: not too popular, yet not too overlooked with some 850,000 visitors heading there every year. Ecuador's economy is propped up by its export industry - it is the world's largest producer of bananas, yielding a yearly income of 936.5 billion USD. Not to mention the country's rich reserves of crude oil, which in turn constitute 40 percent of its export.
Second Smallest in South America
At only 256,370 square kilometers in size, Ecuador is considered as the second smallest country in South America. While that may be the case, it makes up for the fact by being one of the 17 countries with the largest biodiversities in the world. For the nature lovers, it is somewhat of a paradise, home to over 16,000 plant species, 1,600 bird species, 4,500 butterfly species, and an array of unique wildlife. No other place in the country, though, embodies that trait more than the Galapagos Islands - famous for influencing Charles Darwin's Theory of Evolution.
Ecuador's location contributes to its beauty as well, bounded by the Amazon Basin, the Andes Mountains, and the Pacific Ocean. As such, it is the ideal destination for adrenaline junkies, with plenty of opportunities for activities like trekking, mountain climbing, rafting, and mountain biking.
Cultural Hotspot
Once a part of the storied Inca Empire, Ecuador was then conquered by Spanish colonists during the 16th century, only regaining its independence by 1820. These centuries of foreign occupation had made a lasting impression on the country's culture, especially in its cuisine, customs, and religion (95 percent of Ecuadorians are Roman Catholics). Many of the festivals celebrated there every year are testament to the Spanish influence, particularly the Carnival and Semana Santa.
Ecuador's architectural landscape bears tell-tale signs as well. Its capital, Quito, is a perfect example, especially with the city's colonial old town center. It is a UNESCO World Heritage Site, as well as the pretty city of Cuenca, which boasts of an array of colonial architecture too.
Ecuador Traveler Advice
User blogs:
The Easy Way to Find Your Next Flight
Not everyone has experienced the convenience of looking for and booking air travel online. For some people who are not used to online shopping, or for those learning how to browse for the first time it can be a little intimidating at first. It seems like there are a lot of advertisements telling people where to go to book their flight online, but not many articles that take a step-by-step approach ... Read full Blog post
The biggest problem traveling with Bike
The biggest problem for traveling by bike is Transport to the start and from the end of our trip. As a personal trainer I had no big problem with this but I remember like it was yesterday, especially when they come these hot days, when we were kids (that a few decades ago) the only opportunity we had to practice was to grab our bikes cycling, upload them to the door of our house and out from ... Read full Blog post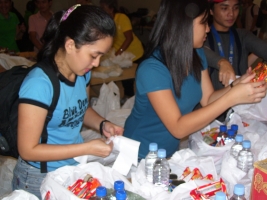 Volunteering for typhoon Ketsana victims
"There's nothing stronger than the heart of a volunteer," says a general in the movie Pearl Harbor. True enough, typhoon Ondoy (internationally nicknamed Ketsana) may have proven its might by destroying hundreds of lives and hundreds more in houses and properties, yet this monster-of-a-calamity did not win in devastating the faith and Good Samaritan-spirit of thousands of men and ... Read full Blog post