48HourVisit.com

Planning a short visit? Check out

48HourVisit.com

, your online guide for short stays and weekend getaways.

Ad
Solomon Islands Travel Guide

/
South Pacific
/
Solomon Islands
/ Introduction
Head-hunters, shark worshippers and cannibals once ruled the Melanesian country of Solomon Islands, South Pacific's third largest archipelago. Today, those traces of brutality are but major tourist attractions, but they, together with countless diving gems, continue to suffuse the islands with an aura of mystery.
Coral-encircled lagoons, atolls, mountains and fast-running rivers are just some of the features of the nearly one thousand landmasses that constitute Solomon Islands, east of Papua New Guinea. The main island of Guadalcanal houses the capital, Honiara, associated with the Islands' National Museum, National Art Gallery, botanical garden of orchids, and the Tenaru falls.
Some of the worst World War II fights occurred in the Battle of Guadalcanal, leaving a wealth of wrecks as heirlooms for the diver. Together with coral islands and submerged volcanoes, the ruins color the marine topography of Western Province, Nggela Islands and Roviana Lagoon.
Canoe paddling during wildlife-watching is the forte of the World Heritage-listed Lake Te'Nggano, South Pacific's largest lake. Surfing at Pailongge's reef breaks, snorkeling for anglers in Ghizo Island, and wandering through Malaita's artificial islands are just some of Solomon Island's other highlights.
As multi-hued as the setting is the Islanders' culture. Although English is the official language, Solomons Pidgin is the lingua franca. There is no major cuisine as locals depend on nature for food. Women dance in grass skirts while men groove to the tune of nose-blown pipes. Locals of the Western Province perform magic and summon sharks. In Malaita, sharks are even worshipped, while in Lola Island, a skull shrine and shambles of a head-hunter king's coral fort beguile visitors. There are mementos to show how, under the British Queen, the Islanders struggled to crack down malaria and the illicit dolphin trade. The calm one finds is charged with the mystery of the gruesome past.
Solomon Islands Landmarks:
Solomon Islands Traveler Advice
User blogs:
The Easy Way to Find Your Next Flight
Not everyone has experienced the convenience of looking for and booking air travel online. For some people who are not used to online shopping, or for those learning how to browse for the first time it can be a little intimidating at first. It seems like there are a lot of advertisements telling people where to go to book their flight online, but not many articles that take a step-by-step approach ... Read full Blog post
The biggest problem traveling with Bike
The biggest problem for traveling by bike is Transport to the start and from the end of our trip. As a personal trainer I had no big problem with this but I remember like it was yesterday, especially when they come these hot days, when we were kids (that a few decades ago) the only opportunity we had to practice was to grab our bikes cycling, upload them to the door of our house and out from ... Read full Blog post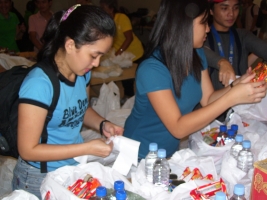 Volunteering for typhoon Ketsana victims
"There's nothing stronger than the heart of a volunteer," says a general in the movie Pearl Harbor. True enough, typhoon Ondoy (internationally nicknamed Ketsana) may have proven its might by destroying hundreds of lives and hundreds more in houses and properties, yet this monster-of-a-calamity did not win in devastating the faith and Good Samaritan-spirit of thousands of men and ... Read full Blog post