48HourVisit.com

Planning a short visit? Check out

48HourVisit.com

, your online guide for short stays and weekend getaways.

Ad

The Glossary

collectivo - "a boat that you can hire to take you anywhere you want to go (usually found in beaches and nature reserves)."
Honduras Travel Guide

/
Central America
/
Honduras
/ Introduction
Honduras is a Central American country bordered by Guatemala on the northwest, El Salvador on the south and Nicaragua on the southeast. It has Pacific coastline on the south and Caribbean coastline on the north. Bay Islands on Caribbean sea, where Spanish explorer Christopher Columbus first landed in 1502, is also a part of this country. Honduras was a Spanish colony before attaining independence in 1821. Subsequently, the country was under military rule for nearly two decades. Honduras is well known for the Mayan ruins, natural parks and beaches, which are exceptionally good for snorkeling and diving.
Caribbean coastline of Honduras has some of the finest white sand beaches in the region. Vast and diverse coral reef of Bay Islands makes it perfect for a wide variety of water sports such as diving, snorkeling, sailing and kayaking. Beaches of Puerto Cortez, in northwestern Honduras, are ideal for sun worshipers. One can see the Spanish colonial architecture in the nearby town of Omoa. Long beaches on the Island of Roatan are popular for water sports and nightlife. Beaches of Utila and Guanaja are excellent for diving and snorkeling. Pacific coast of Honduras has some of the enchanting secluded beaches. Ampala on the Isla el Tigre is a popular destination.
Honduras is also well known for it Mayan ruins. This area is believed to house the most artistic and advanced Mayan city. The Copan Ruins Archaeological Park presents the splendor of this ancient city. The Court of the Hieroglyphic Stairway, the Acropolis and the Great Plaza are important attractions of this archaeological park. Moskitia natural park presents an unspoiled landscape and boasts of a wide variety of flora and fauna. The Pico Bonito National Park, near La Ceiba, is a popular hiking destination. Water rafting along the Cangrejal River is an exhilarating experience. Lake Yojoa, the biggest lake of the country, in western Honduras is a paradise for bird watchers, and also a fishing hot spot.
The country is famous for its handicrafts and leather work. There are several shops in San Pedro Sula selling traditional handicrafts and leather items. Tegucigalpa, the largest city of Honduras and its capital, has an international airport and is well connected to the outside world.
Honduras Traveler Advice
User blogs:
The Easy Way to Find Your Next Flight
Not everyone has experienced the convenience of looking for and booking air travel online. For some people who are not used to online shopping, or for those learning how to browse for the first time it can be a little intimidating at first. It seems like there are a lot of advertisements telling people where to go to book their flight online, but not many articles that take a step-by-step approach ... Read full Blog post
The biggest problem traveling with Bike
The biggest problem for traveling by bike is Transport to the start and from the end of our trip. As a personal trainer I had no big problem with this but I remember like it was yesterday, especially when they come these hot days, when we were kids (that a few decades ago) the only opportunity we had to practice was to grab our bikes cycling, upload them to the door of our house and out from ... Read full Blog post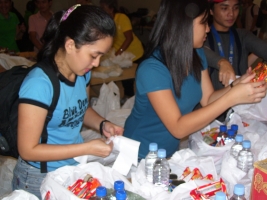 Volunteering for typhoon Ketsana victims
"There's nothing stronger than the heart of a volunteer," says a general in the movie Pearl Harbor. True enough, typhoon Ondoy (internationally nicknamed Ketsana) may have proven its might by destroying hundreds of lives and hundreds more in houses and properties, yet this monster-of-a-calamity did not win in devastating the faith and Good Samaritan-spirit of thousands of men and ... Read full Blog post