48HourVisit.com

Planning a short visit? Check out

48HourVisit.com

, your online guide for short stays and weekend getaways.

Ad
After the Great Flood, Noah's Ark is said to have landed on Mt. Ararat, which looms over Armenia, a country founded by the Hayks, descendants of Noah. About 1,700 years ago, Armenia is the first country to have adopted Christianity, making it a reservoir of some of the world's earliest churches and monasteries.
Cradle of civilization
Armenia, too, is the only nation left among the original countries in the 3,000-year-old maps of Anatolia. This ex-Soviet republic's location between Asia and Europe made it a cradle of civilization, a Silk Road terminus, and a witness to the rise and fall of empires, enabling it to collect heaps of multicultural art and artifacts. Yet despite seeing the world in the eyes of its many migrants and conquerors, Armenia has retained a population that is among the most homogenous in the world.
Sports and nature
Geographically, Armenia is a landlocked country, with only one major body of water, the turquoise Lake Sevan, one of the biggest high-altitude lakes in the world. It serves as the retreat of windsurfers, boaters, and other water sports enthusiasts. Armenia's mountainous terrain also sets the stage for climbing and skiing. Along the slopes of mountains and valleys are deserts, lush forests, stalactite-filled caves, hot mineral baths like those in Vayots Dzor, and summer villages inhabited by shepherds and Yezidi Kurds.
Art enclaves
Apart from having its own language and alphabet, Armenia has World Heritage-listed monasteries, like Haghpat and Sanahin, and cave paintings like those in Ughtasar Mountain. In the National Art Gallery, around 16,000 works date back to the Middle Ages, including paintings from European masters like Donatello.
Shopping
More churches and ancient architecture, mostly unexplored by scientists, are just on the backyard of the capital, Yerevan, the center of elaborate Armenian wedding ceremonies, classical music, dancing, and opera. Making Armenian gold and hand-knotted kilims (carpets) have long been traditions in Yerevan, whose Versinage or arts and crafts market bustles with a throng of vendors selling these products, alongside antiques, woodcarvings, fine lace, and obsidian jewelry.
User blogs:
The Easy Way to Find Your Next Flight
Not everyone has experienced the convenience of looking for and booking air travel online. For some people who are not used to online shopping, or for those learning how to browse for the first time it can be a little intimidating at first. It seems like there are a lot of advertisements telling people where to go to book their flight online, but not many articles that take a step-by-step approach ... Read full Blog post
The biggest problem traveling with Bike
The biggest problem for traveling by bike is Transport to the start and from the end of our trip. As a personal trainer I had no big problem with this but I remember like it was yesterday, especially when they come these hot days, when we were kids (that a few decades ago) the only opportunity we had to practice was to grab our bikes cycling, upload them to the door of our house and out from ... Read full Blog post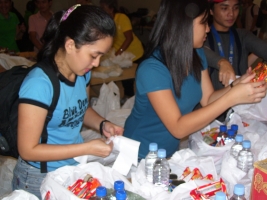 Volunteering for typhoon Ketsana victims
"There's nothing stronger than the heart of a volunteer," says a general in the movie Pearl Harbor. True enough, typhoon Ondoy (internationally nicknamed Ketsana) may have proven its might by destroying hundreds of lives and hundreds more in houses and properties, yet this monster-of-a-calamity did not win in devastating the faith and Good Samaritan-spirit of thousands of men and ... Read full Blog post