48HourVisit.com

Planning a short visit? Check out

48HourVisit.com

, your online guide for short stays and weekend getaways.

Ad
Qatar Travel Guide

/
Middle East
/
Qatar
/ Introduction
Qatar, a country in Arabian peninsula, is a place of endless beauty. From the picturesque beaches in Persian Gulf to wilderness of Inland Sea, it offers almost everything. Located on the northeastern coast of Arabian peninsula, it is bordered by Saudi Arabia on its south. Qatar itself is a peninsula in the Persian Gulf within the larger Arabian peninsula. Presently an affluent country with rich oil reserves, Qatar was one of the first areas to convert to Islam. For centuries it was under the Ottoman and British occupation. It attained independence in 1971.
For those who love adventure, a tryst with the rolling sand dunes of Khor al Adaid, also called the 'Inland Sea', promises to provide the most unforgettable experience. Khor al Adaid is located in southeastern part of the country and is a major tourist attraction for its spectacular scenery created by waters of Persian Gulf penetrating into the desert sands. It has hot humid summers and is accessible only by a four wheel drive. There are several tour operators offering guided tours to this region.
Museum of Islamic Art, built in 2008, is a magnificent example of architecture designed by I. M. Pei. Located in Doha, the capital of Qatar, the museum boasts of rare collection of Islamic art, exhibition galleries and educational activities. Qatar National Museum, located inside Fariq al Salata Palace, presents a good example of traditional architectural style of the country.
Al Shahaniya, close to Doha, is the venue of the 'sport of the Sheikhs', camel racing, an important part of the the country's heritage. Towns of Umm Salal Mohammed and Umm Salal Ali still retains their old world charm. Al-Khor and Al-Zubara, pearl centers of the region once upon a time, are now important fishing towns.
Surrounded by Persian Gulf, Qatar has a number of beaches. Popular among them are Ras Abruq, Dukhan Beach, Umm Baab Beach, Salwa Beach and Mesaieed. There are good facilities for water sports like kite surfing and jet skiing. Doha is a modern city and has plenty of places to dine, enjoy and shop. Landmark, City Center, Hyatt Plaza, Villagio and The Mall are some of the glitzy malls of Doha. At Souq Waquif, one can bargain and buy handicrafts and traditions items.
Qatar Traveler Advice
Qatar photography
User blogs:
The Easy Way to Find Your Next Flight
Not everyone has experienced the convenience of looking for and booking air travel online. For some people who are not used to online shopping, or for those learning how to browse for the first time it can be a little intimidating at first. It seems like there are a lot of advertisements telling people where to go to book their flight online, but not many articles that take a step-by-step approach ... Read full Blog post
The biggest problem traveling with Bike
The biggest problem for traveling by bike is Transport to the start and from the end of our trip. As a personal trainer I had no big problem with this but I remember like it was yesterday, especially when they come these hot days, when we were kids (that a few decades ago) the only opportunity we had to practice was to grab our bikes cycling, upload them to the door of our house and out from ... Read full Blog post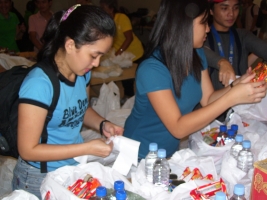 Volunteering for typhoon Ketsana victims
"There's nothing stronger than the heart of a volunteer," says a general in the movie Pearl Harbor. True enough, typhoon Ondoy (internationally nicknamed Ketsana) may have proven its might by destroying hundreds of lives and hundreds more in houses and properties, yet this monster-of-a-calamity did not win in devastating the faith and Good Samaritan-spirit of thousands of men and ... Read full Blog post