48HourVisit.com

Planning a short visit? Check out

48HourVisit.com

, your online guide for short stays and weekend getaways.

Ad
Senegal which is located in the western most of African continent has all the required assets for a blooming tourism industry. Since it is only a few hours away from major tourist markets, Senegal is growing manifold in terms of offering all form of tourism. You can experience sea side resorts since Senegal is a sunny country claiming more than 3000 hours of sunshine yearly. You are offered leisure, aquatic sports, horseback riding, some exotic bird watching, and cultural tourism, sport tourism like hunting and scuba diving and eco tourism. You can tap your historic side by visiting the rich and enticing historic museums and you can soothen your soul and spirit with the enthralling and gorgeous natural sites and its sheer beauty.
Despite various influences, especially the western kind, Senegal has its own brand of exotic music, food, and customs that gives it the right flavor and essence. Senegal is such a beautiful country that it's a home to the most exotic beaches in the world, the reefs and the gorges on the coast are a delight for the divers giving them extraordinary vision of the under water world. Dakar, one of the biggest cruise ship ports in Africa is the melting pot capital city that boasts of an exciting club and restaurant backdrop as well as duty free shopping. Dakar being the travelers most favorite among the larger African cities proudly exhibits its entourage of internationally acclaimed musicians offering irresistible soundtracks. Most visitors head to Senegal to bask under a clear blue sky followed by cocktail fuelled nights. You surely can't miss the beaches in the Cap Skiring area where its pleasantly low key and serene. And just a short drive form Cap.
You can find solace in the small rural villages thrown in with a enjoyable fishing expedition. A very popular Dakar haunt is the Lac rose which owes its name to its pink coloring. It attracts a lot of groups as it is the terminus of the annual Dakar motor rally. Parc national des Oiseaux Du Djoudj national park is one of the most important bird sanctuaries in the world where 3 million birds migrating from south of Europe stop here from November to April. Pelicans, pink flamingos, ducks and waders wander around in plentiful. Senegal with its natural good looks, a breezy capital and an exotic backdrop is unmatchable and unforgettable.
User blogs:
The Easy Way to Find Your Next Flight
Not everyone has experienced the convenience of looking for and booking air travel online. For some people who are not used to online shopping, or for those learning how to browse for the first time it can be a little intimidating at first. It seems like there are a lot of advertisements telling people where to go to book their flight online, but not many articles that take a step-by-step approach ... Read full Blog post
The biggest problem traveling with Bike
The biggest problem for traveling by bike is Transport to the start and from the end of our trip. As a personal trainer I had no big problem with this but I remember like it was yesterday, especially when they come these hot days, when we were kids (that a few decades ago) the only opportunity we had to practice was to grab our bikes cycling, upload them to the door of our house and out from ... Read full Blog post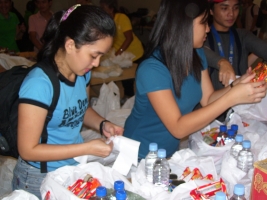 Volunteering for typhoon Ketsana victims
"There's nothing stronger than the heart of a volunteer," says a general in the movie Pearl Harbor. True enough, typhoon Ondoy (internationally nicknamed Ketsana) may have proven its might by destroying hundreds of lives and hundreds more in houses and properties, yet this monster-of-a-calamity did not win in devastating the faith and Good Samaritan-spirit of thousands of men and ... Read full Blog post