48HourVisit.com

Planning a short visit? Check out

48HourVisit.com

, your online guide for short stays and weekend getaways.

Ad
Caribbean Travel Guide

/
Caribbean
/ Introduction
The Caribbean region is one of the top destinations on every traveler's dream list. This region is basically made up of the exotic Caribbean Sea along with a very large number of islands, islets, reefs, and cays which represent nature in its most sensuous form. Some of the important islands in this region are Turks and Caicos Islands, Aruba, Puerto Rico, Jamaica, Grenada and Trinidad & Tobago. The list is very vast and every tourist can make their own preferred destination list.
The scenic surroundings of the Caribbean can make even the most serious natured person relax and enjoy all the small pleasures of life. There is no reason required to party out here. Everyone wants to have a nice time partying to the highest degree. Party lovers should remember that the party never gets over out here. The good part about the local festivals is that it offers a chance to children too to take part in its activities and have fun. Music lovers will never have it as good as you can enjoy jazz, reggae, soul, calypso and ska among other forms of music in all the popular festivals celebrated out here.
Grenada is truly stunning with scented spice trees it its midst. Its beaches will attract you with its seductive allure. Lush rainforests, waterfalls, flowing rivers and stunning mountain lakes are its other attractions. You can splurge your money on rare items available at the local fairs, festival and markets. Lovers of the National Geographic channel can take pleasure in witnessing coral reefs in person. If you are out here with your family or children, the lavish resorts will take care of your each and every need. Use this opportunity to try out adventurous water sports like scuba diving, sailing and windsurfing.
Aruba may be a tiny island but it packs a mighty punch in what all it offers to tourists. Unwind on the beaches or try diving and snorkeling. The people out here are very friendly and can even make a loner feel wanted. You can try your luck at the numerous casinos or chill out at the bars and clubs. Dining options are too numerous to be listed here.
Puerto Rico, the Cayman Islands and the US Virgin Islands offer you eye-catching options in shopping. Also check Saint Martin/Sint Maarten which is jointly shared by France and the Netherlands. They offer gourmet restaurants and casinos for your dine and play options.
Caribbean Traveler Advice
User blogs:
The Easy Way to Find Your Next Flight
Not everyone has experienced the convenience of looking for and booking air travel online. For some people who are not used to online shopping, or for those learning how to browse for the first time it can be a little intimidating at first. It seems like there are a lot of advertisements telling people where to go to book their flight online, but not many articles that take a step-by-step approach ... Read full Blog post
The biggest problem traveling with Bike
The biggest problem for traveling by bike is Transport to the start and from the end of our trip. As a personal trainer I had no big problem with this but I remember like it was yesterday, especially when they come these hot days, when we were kids (that a few decades ago) the only opportunity we had to practice was to grab our bikes cycling, upload them to the door of our house and out from ... Read full Blog post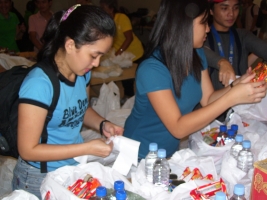 Volunteering for typhoon Ketsana victims
"There's nothing stronger than the heart of a volunteer," says a general in the movie Pearl Harbor. True enough, typhoon Ondoy (internationally nicknamed Ketsana) may have proven its might by destroying hundreds of lives and hundreds more in houses and properties, yet this monster-of-a-calamity did not win in devastating the faith and Good Samaritan-spirit of thousands of men and ... Read full Blog post