48HourVisit.com

Planning a short visit? Check out

48HourVisit.com

, your online guide for short stays and weekend getaways.

Ad
Since it lies between Europe and Asia, Georgia is at the crossroads of civilizations. A country in the Caucasus Mountains, Georgia was a part of the Soviet Union until its dissolution in 1991. It had the distinction of being a favorite holiday retreat of the Russian elites. The country, however, has carefully preserved and maintained its unique culture and identity. It was one of the earliest nations to adopt Christianity, making it a land of grandiose churches, ancient castles and vivid mountain scenery.
Prosperous capital
Tbilisi, the country's capital, has a Mediterranean climate and is pleasantly warm. The old part of the city is known for its monumental wealth. Sioni Cathedral, built in the 5th century, is the oldest among the numerous churches dotting the cityscape. The Narikala Fortress provides a bird's eye view of the old city. The fortress itself was built by the Persians in the 4th century. Prospekt Rustaveli, the main avenue of Tbilisi, is lined with stylish buildings reflecting the country's pride and prosperity. The Georgian State Museum is an important landmark on this street.
UNESCO World Heritage Sites
Mtskheta, the old capital of Georgia, has many monuments bearing special significance to Christianity. The Svetitskhoveli Cathedral is believed to have been constructed on the site where Jesus Christ's crucifixion robe was dropped. The 6th century Jvari Cathedral charms its visitors with characteristic Georgian architecture. Both the cathedrals have been declared UNESCO World Heritage Sites.
National parks
For active tourists, Georgia has numerous national parks, which offer scenic beauty. The Tusheti National Park offers a host of mountain activities and trekking opportunities. The park has a mountainous landscape with its highest point soaring to 4,800 m. Vashlovani, Lagodechi, Borjomi-Kharogauti and Kolcheti are some of the other national parks in the country.
Winter and water sports
There are opportunities abound for sports like skiing, ski touring, heli-skiing and snowboarding in the mountainous regions of Georgia, extending from the Black Sea to the Caspian Sea. For water activities, the go-to places are the beaches and health resorts of Batumi, Sarpi, Kueriati, Gonia, Kobuleh, Grigoleti and Ureki.
User blogs:
The Easy Way to Find Your Next Flight
Not everyone has experienced the convenience of looking for and booking air travel online. For some people who are not used to online shopping, or for those learning how to browse for the first time it can be a little intimidating at first. It seems like there are a lot of advertisements telling people where to go to book their flight online, but not many articles that take a step-by-step approach ... Read full Blog post
The biggest problem traveling with Bike
The biggest problem for traveling by bike is Transport to the start and from the end of our trip. As a personal trainer I had no big problem with this but I remember like it was yesterday, especially when they come these hot days, when we were kids (that a few decades ago) the only opportunity we had to practice was to grab our bikes cycling, upload them to the door of our house and out from ... Read full Blog post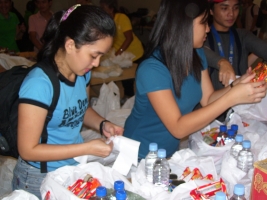 Volunteering for typhoon Ketsana victims
"There's nothing stronger than the heart of a volunteer," says a general in the movie Pearl Harbor. True enough, typhoon Ondoy (internationally nicknamed Ketsana) may have proven its might by destroying hundreds of lives and hundreds more in houses and properties, yet this monster-of-a-calamity did not win in devastating the faith and Good Samaritan-spirit of thousands of men and ... Read full Blog post