48HourVisit.com

Planning a short visit? Check out

48HourVisit.com

, your online guide for short stays and weekend getaways.

Ad
Germany is impressive with many spellbinding attractions from magnificent castles, quaint cathedrals, meandering rivers, woods and meadows, boulevards and relics of World War. Germany is a treat for your senses, offering a grand vista, tantalizing your taste buds, your olfactory senses, the music of which is pleasing to your ears and the many spas that soothe your frayed nerves!
Berlin the capital, contains the remnants of the Berlin Wall. Historians will enjoy a visit to The Charlottenburg Palace the oldest surviving Prussian palace and the Soviet War Memorial wherein the statues are laid in tribute to Russian soldiers who died fighting Hitler's regime. The Palace of Justice at Nuremburg is a historic site where judgmental trails were held. Lake Constance the largest aquatic attraction, bordering both Switzerland and Austria, offers a visual treat for bird-watchers. The Berlin Zoo houses over 13,000 different species.
The Kolner Dom is the biggest cathedral in Germany, whose construction is said to have taken 600 years!! The Neuschwanstein Castle overlooking the gorgeous Hohenschwangau Valley is straight out of your child's book, Sleeping Beauty, had inspired Walt Disney who recreated the vision in his classical!
Cologne perched on River Rhine satiates all your senses, leaving you gasping for more. The city offers a beautiful view of the river and each time you smear Eau de Cologne, you'll be reminded of your stay here. The perfume owes its origin to an Italian merchant who blended rosemary, lavender and other scents to make this famous cologne!
While in Germany, never miss The Romantic Road, spanning the River Main and the Alps. During its course, it passes through villages and walled towns with bright red roofs. While you traverse the path, you'll sight majestic Gothic cathedrals, old country inns, verdant farms and enchanting woods. You'll know why the path is named Romantic Road!
It'll be a pity if you miss The Black Forest, a stretch of hills in southwest Germany, covered with dark pine and fir trees with River Danube for company.
The Semper Opera House, Dresden is an architectural marvel, exemplifying neo-renaissance and housing classical operas. The Bavarian Opera House, Munich is another classical theatre, that'll thrill your auditory senses. The many cafes in Munich also stage live musical shows.
Poetry lovers must head for the birthplace of Johann Wolfgang von Goethe in Frankfurt. The Kaiserdom is the Imperial Cathedral in Frankfurt a historic landmark, having been the place of ten coronation ceremonies. The Palmengarten Gardens, Franfurt spanning 50 acres of land soothes your eyes, with its exotic blooms and plants cultivated in greenhouses. Stop to taste the best wines that Loreley Rock has to offer. Bavaria too tantalizes your taste buds with its ever-flowing German ale during the Oktoberfest.
Your skin needs pampering too, so head for the various mineral and mud spas. Baden-Baden, Wurttemberg, boasts of springs dating back to the Roman days and offers anti-ageing and other beauty treatments.
User blogs: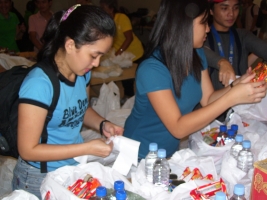 Volunteering for typhoon Ketsana victims
"There's nothing stronger than the heart of a volunteer," says a general in the movie Pearl Harbor. True enough, typhoon Ondoy (internationally nicknamed Ketsana) may have proven its might by destroying hundreds of lives and hundreds more in houses and properties, yet this monster-of-a-calamity did not win in devastating the faith and Good Samaritan-spirit of thousands of men and ... Read full Blog post
San Gimignano and San Pellegrino
Night falls on the flourishing and industrious San Gimignano, its 72 towers stand on the low roofs of the houses lit by the moon. This is not a luxury travel spot but is something you don't see every day. In the distance the clatter of hooves echoed tired in the Via Francigena. The hand of the blacksmith stops beating, the frame of the weaver becomes silent, the streets of the tank only a concert ... Read full Blog post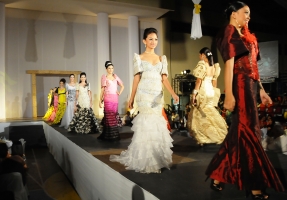 Pinukpok Fashion show in Legaspi Albay, Philippines
The Philippine Terno and the Barong, the graceful Filipino formal dress and male wear that has been around since the turn of the century, has never really lost its place as chic formal or evening wear as local couture houses and yound new Bicol fashion designers like Klang Arispe andDanny Clint have done much to make ethnic handloomed fabrics like abaca, have single handedly kept alive the province's ... Read full Blog post