48HourVisit.com

Planning a short visit? Check out

48HourVisit.com

, your online guide for short stays and weekend getaways.

Ad
Paraguay Travel Guide

/
South America
/
Paraguay
/ Introduction
Paraguay is perhaps one of the least-known countries in South America, playing second fiddle to its more popular neighbors Brazil and Argentina. In fact, the country does not rely much on its tourism industry. Instead, it dotes on its export industry - it is the 5th largest soya bean and 2nd largest energy exporter in the world.
The country also styles itself as "Corazon de America," or "Heart of America." This is largely due to its location at the geographical heart of South America, more so than anything else. A land of semi-nomadic tribes during the pre-Colombian era, it was colonized by Spanish forces in the 16th century, leaving an indelible mark on its culture and history. Even as it gained independence in 1811, Paraguay still bears colonial marks on its architecture and festivals.
Country of Contrasts
Paraguay can be described as a country of contrasts. It is both wealthy and poor. Wealthy, because of its rich natural resources, especially in agriculture, which makes up around 27 percent of its annual GDP. Poor, because it has not yet been able to harness its resources properly and realize its potential. More than 35 percent of its population lives in poverty, with much of its export income going to the select elite.
It is also a place where sophisticated modern cities coexist with quaint rural villages and indigenous tribes. In Paraguay, it is not a rare sight to still see horse-drawn carriages ply the routes around high-rise buildings and bustling shopping centers. Chaos meets laid-back here, as busy city streets give way to nearby rural dirt roads.
Backpacking Haven
Another appropriate way to describe Paraguay is being a backpacking haven. Given its pretty much unexplored and undeveloped landscape - forests, mountains, lakes, and rivers - the country makes for an ideal destination for the adventure junkies. Wildlife tours and treks are activities for tourists in the country, especially in spots like Cordillera de los Altos, Cerro Cora, and Mbaracayu.
The country is bisected by the rough Rio Paraguay, and is popular for leisurely rides or white-water rafting aboard rickety boats and homemade rafts. Even beach lovers can find something to do in Paraguay, owing to the resorts at San Bernardino, Chololo, and Lake Ypacarai.
Paraguay Traveler Advice
User blogs:
The Easy Way to Find Your Next Flight
Not everyone has experienced the convenience of looking for and booking air travel online. For some people who are not used to online shopping, or for those learning how to browse for the first time it can be a little intimidating at first. It seems like there are a lot of advertisements telling people where to go to book their flight online, but not many articles that take a step-by-step approach ... Read full Blog post
The biggest problem traveling with Bike
The biggest problem for traveling by bike is Transport to the start and from the end of our trip. As a personal trainer I had no big problem with this but I remember like it was yesterday, especially when they come these hot days, when we were kids (that a few decades ago) the only opportunity we had to practice was to grab our bikes cycling, upload them to the door of our house and out from ... Read full Blog post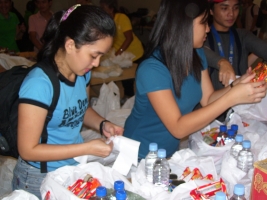 Volunteering for typhoon Ketsana victims
"There's nothing stronger than the heart of a volunteer," says a general in the movie Pearl Harbor. True enough, typhoon Ondoy (internationally nicknamed Ketsana) may have proven its might by destroying hundreds of lives and hundreds more in houses and properties, yet this monster-of-a-calamity did not win in devastating the faith and Good Samaritan-spirit of thousands of men and ... Read full Blog post