48HourVisit.com

Planning a short visit? Check out

48HourVisit.com

, your online guide for short stays and weekend getaways.

Ad

The Glossary

extranjeros - "the term El Salvadorians use to refer to foreigners, tourists or visitors."
El Salvador Travel Guide

/
Central America
/
El Salvador
/ Introduction
El Salvador is surfing Mecca of the world. It also has Central America's most remote national park and stunning volcanic craters. The country is located between Guatemala and Honduras, and has the Pacific Ocean on the southwest. However, despite all its attractions, El Salvador is not as much visited by tourists as one would fancy. This is so, probably, because like most Central American countries, it had been at the center of civil wars and social unrest.
A Spanish colony since 1525, it achieved independence in 1821. For most part of the 20th Century the country was torn by strife and civil wars. However, present day El Salvador is rapidly industrializing and trying bring its still high crime rate under control.
With 320 kilometers of coastline, this small country offers ultimate experience in adventure as well as tranquility. Its coastline is dotted with numerous beaches known for massive waves and world class breaks. Yet, these beaches are relatively uncrowded, making it a surfer's paradise. Some of the best beaches for surfing are La Libertad (near San Salvador), the wild El Este (the east), Punta Roca, Punta Mango, El Zonte and El Sunzal.
For those who are looking for tranquility and relaxation beaches of La Barra de Santiago, El Cuco and El Tamarindo are ideal. Playa Costa del Sol boasts of the best resorts.
El Salvador is an equally good eco-tourism destination. Reserva Nacional Bosque el Imposible, located near the country's border with Guatemala, is among the remotest and almost deserted. The park is home to rare mammals like the ant bear, puma, agouti, ocelot and wild boar, and also to birds like the king hawk, black-crested eagle and black and white owl.
There are over 25 volcanoes in El Salvador. The Santa Ana, Izalco and San Miguel are regarded as active volcanoes. Cerro Verde National Park is ideal for hiking. Montecristo Cloud Forest is excellent for birdwatching.
Tourists can get a feel of heritage and traditions of El Salvador by visiting colonial towns of Panchimalco, Suchitoto, Apaneca and Juayua. Mayan ruins of Joya de Ceren is a UNESCO World Heritage Site. San Salvador, the country's capital, is a metropolitan city offering good opportunities for shopping and nightlife.
El Salvador Traveler Advice
User blogs:
The Easy Way to Find Your Next Flight
Not everyone has experienced the convenience of looking for and booking air travel online. For some people who are not used to online shopping, or for those learning how to browse for the first time it can be a little intimidating at first. It seems like there are a lot of advertisements telling people where to go to book their flight online, but not many articles that take a step-by-step approach ... Read full Blog post
The biggest problem traveling with Bike
The biggest problem for traveling by bike is Transport to the start and from the end of our trip. As a personal trainer I had no big problem with this but I remember like it was yesterday, especially when they come these hot days, when we were kids (that a few decades ago) the only opportunity we had to practice was to grab our bikes cycling, upload them to the door of our house and out from ... Read full Blog post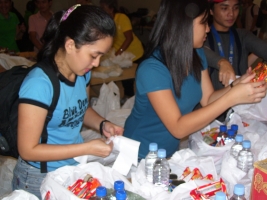 Volunteering for typhoon Ketsana victims
"There's nothing stronger than the heart of a volunteer," says a general in the movie Pearl Harbor. True enough, typhoon Ondoy (internationally nicknamed Ketsana) may have proven its might by destroying hundreds of lives and hundreds more in houses and properties, yet this monster-of-a-calamity did not win in devastating the faith and Good Samaritan-spirit of thousands of men and ... Read full Blog post