48HourVisit.com

Planning a short visit? Check out

48HourVisit.com

, your online guide for short stays and weekend getaways.

Ad
Sprawling with a land area of 2.54 million square kilometers is the country of Sudan or the "Land of the Blacks" (Bilad Assudan), nestled on the northeastern part of Africa. In spite of its immense size, Sudan is one of the least-visited countries in the continent due to a seemingly endless civil strife that racks the land. Behind the dark cloud of war, however, the beauty of Sudan's culture and nature shines through.
There are plenty of ways to enjoy Sudan, starting from its ancient capital Omdurman, to the new capital, Khartoum. Omdurman's camel market and Arab souks are a crowd-drawer, while in Khartoum, Shari'a Al Nil or Nile Street beguiles with the picturesque view of its Blue and White Nile, cobblestone street, and whitewashed buildings such as Presidential Palace and National Museum, which contains archeological treasures dating back to as far as 4000 BC.
For those wishing to embrace Sudan's wilderness, there are the vast swamps, rainforests, and game reserves of Dinder National Park, home to wild animals such as black and white rhinos, elands, Nile lechwes, kudus, pelicans, bushbucks and crown cranes. The park covers about 2500 square miles of Khartoum, touching base with the Ethiopian border.
Sudan's highest peak is West Jebel Marra, which rises 10,100 feet above sea level. The mountain has waterfalls and volcanic lakes offering refreshing dips and views. Jebel Marra looms over the famous Red Sea, home to the country's marine gardens and coral reefs.
User blogs:
The Easy Way to Find Your Next Flight
Not everyone has experienced the convenience of looking for and booking air travel online. For some people who are not used to online shopping, or for those learning how to browse for the first time it can be a little intimidating at first. It seems like there are a lot of advertisements telling people where to go to book their flight online, but not many articles that take a step-by-step approach ... Read full Blog post
The biggest problem traveling with Bike
The biggest problem for traveling by bike is Transport to the start and from the end of our trip. As a personal trainer I had no big problem with this but I remember like it was yesterday, especially when they come these hot days, when we were kids (that a few decades ago) the only opportunity we had to practice was to grab our bikes cycling, upload them to the door of our house and out from ... Read full Blog post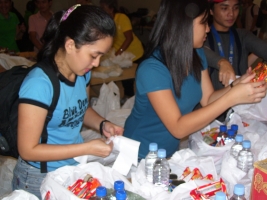 Volunteering for typhoon Ketsana victims
"There's nothing stronger than the heart of a volunteer," says a general in the movie Pearl Harbor. True enough, typhoon Ondoy (internationally nicknamed Ketsana) may have proven its might by destroying hundreds of lives and hundreds more in houses and properties, yet this monster-of-a-calamity did not win in devastating the faith and Good Samaritan-spirit of thousands of men and ... Read full Blog post