48HourVisit.com

Planning a short visit? Check out

48HourVisit.com

, your online guide for short stays and weekend getaways.

Ad
Kiribati Travel Guide

/
South Pacific
/
Kiribati
/ Introduction
On account of its peculiar geographic location, Kiribati is the first place on Earth to mark each new calendar day. Kiribati, officially termed the Republic of Kiribati, is the planet's easternmost country and the only one attached to the four hemispheres of the world. An airplane ride away from Fiji and Solomon Islands, Kiribati also often appears on the map of a Hawaiian cruise trip as a destination for wreck diving and traditional performing arts.
Coined after the British Captain Thomas Gilbert, the name Kiribati (pronounced as "Kiri-bas") is a Gilbertese rendition of "Gilberts" from the country's former designation, "Gilbert Islands." Kiribati saw some of the bloodiest moments in the Pacific theater of World War II, such as the Battle of Tarawa in 1943, which left land relics and wreck dive spots in the capital, South Tarawa. In the '60s, some of Kiribati's islands were used by the United States and Great Britain to test nuclear weapons, to bitter opposition from the Gilbertese government.
The Melanesian I-Kiribati may be carefree and hostile, but they churn out a culture stylized with colorful dancing and vivacious music. Songs (te anene) and dances (te mwaie) are put on high pedestal not only as a form of entertainment but, more importantly, as means for storytelling and display of skill, beauty and endurance. Chants are often love-themed and accompanied by vocalizing and body percussion, while dances are frequently birdlike, mimicking the frigate bird on the country's flag. Stick dances or tirere are particularly performed during major festivals to tell semi-historical stories.
In the outer islands, lifestyle is defined by gathering coconuts, salting clams or weaving thatches for the huts. Coconuts, breadfruits and fish are the ingredients of the staple food of the island. The facilities are primitive but the country tries to catch up with Western culture through cars, bars and the Internet. In North Tarawa, a home stay on stilts beside an aquamarine lagoon is an ideal setting for sipping fresh coconut juice.Hundreds of marine species, including coral reefs, tunas, stingrays and whales, have transformed the Phoenix Islands as the world's largest protected marine reserve. The Line Islands, particularly Kiribati or Christmas Island, is the first in the world to commence each new day. In fact, many foreigners trooped to the island to witness the first dawn of the millennium. As the world's largest atoll, Kiribati's top activities are bird watching, scuba diving, and catching bone fish.
Kiribati Traveler Advice
User blogs:
The Easy Way to Find Your Next Flight
Not everyone has experienced the convenience of looking for and booking air travel online. For some people who are not used to online shopping, or for those learning how to browse for the first time it can be a little intimidating at first. It seems like there are a lot of advertisements telling people where to go to book their flight online, but not many articles that take a step-by-step approach ... Read full Blog post
The biggest problem traveling with Bike
The biggest problem for traveling by bike is Transport to the start and from the end of our trip. As a personal trainer I had no big problem with this but I remember like it was yesterday, especially when they come these hot days, when we were kids (that a few decades ago) the only opportunity we had to practice was to grab our bikes cycling, upload them to the door of our house and out from ... Read full Blog post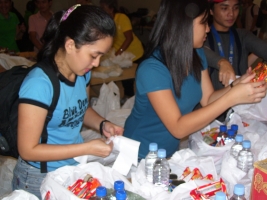 Volunteering for typhoon Ketsana victims
"There's nothing stronger than the heart of a volunteer," says a general in the movie Pearl Harbor. True enough, typhoon Ondoy (internationally nicknamed Ketsana) may have proven its might by destroying hundreds of lives and hundreds more in houses and properties, yet this monster-of-a-calamity did not win in devastating the faith and Good Samaritan-spirit of thousands of men and ... Read full Blog post