48HourVisit.com

Planning a short visit? Check out

48HourVisit.com

, your online guide for short stays and weekend getaways.

Ad

The Glossary

madrassah - "A building used for teaching Islamic theology and religious law."
Iran Travel Guide

/
Middle East
/
Iran
/ Introduction
With all the political and safety issues surrounding Iran, a visit to this Middle-Eastern country seems fool-hardy. For some intrepid travelers, these very obstructions add an appeal of sorts. Synonymous with the forbidden fruit in the Garden of Eden, Iran has enticed and bewitched travelers through the centuries. As one of the oldest cradles of civilization, Iran has piled layer upon layer of art, history and culture, offering countless surprises to those seeking to partake of its treasures. After the rumble that was the Islamic Revolution, dust has settled and Iran is ready to take its place among the must-see-before-you-die list.
International travelers are introduced to Iran by way of its capital, Tehran, a bustling metropolis of people moving in haste and of traffic and pollution testing the most resolute patience. Charming details, however, affirm that the traveler has indeed arrived in Iran: the small teahouses near the famous arches of Chubi Bridge, men smoking galyans (water pipes), sellers proffering hand-woven table cloths, the rich aroma of spice, the convoluted alleyways of the 16th century grand bazaar.
Architecture figures prominently in Iran. Isfahan, the former capital, takes pride with its stunning architecture of the Shah Mosque and the Royal Palace among the souks and tree-line boulevards. At the Imam Square, one of the largest plazas in the world, twin minaret edifice stands like armored sentinel. Sheik Lotfollah Mosque glitters with the kaleidoscopic mosaic tiles. But nothing compares to Persepolis, a sprawling network of ruins that echoes the grandeur of a former city-like complex, located near Shiraz.
Those who adore extreme sports can find action in the rugged mountainous rims, sprawling deserts, small, discontinuous plains along Iran's coasts. The peak of the Mount Damavand and Zagros can be a favorable haven of mountaineer who just loves some pure fun and wild adventure. The uninhabited deserts of Dasht-e Lut and Dasht-e Kavir invite the most rugged of travelers.
Iran Landmarks:
User blogs:
The Easy Way to Find Your Next Flight
Not everyone has experienced the convenience of looking for and booking air travel online. For some people who are not used to online shopping, or for those learning how to browse for the first time it can be a little intimidating at first. It seems like there are a lot of advertisements telling people where to go to book their flight online, but not many articles that take a step-by-step approach ... Read full Blog post
The biggest problem traveling with Bike
The biggest problem for traveling by bike is Transport to the start and from the end of our trip. As a personal trainer I had no big problem with this but I remember like it was yesterday, especially when they come these hot days, when we were kids (that a few decades ago) the only opportunity we had to practice was to grab our bikes cycling, upload them to the door of our house and out from ... Read full Blog post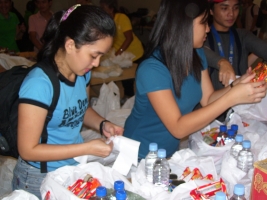 Volunteering for typhoon Ketsana victims
"There's nothing stronger than the heart of a volunteer," says a general in the movie Pearl Harbor. True enough, typhoon Ondoy (internationally nicknamed Ketsana) may have proven its might by destroying hundreds of lives and hundreds more in houses and properties, yet this monster-of-a-calamity did not win in devastating the faith and Good Samaritan-spirit of thousands of men and ... Read full Blog post