48HourVisit.com

Planning a short visit? Check out

48HourVisit.com

, your online guide for short stays and weekend getaways.

Ad
Panama Travel Guide

/
Central America
/
Panama
/ Introduction
Panama is a Central American Country bordering Costa Rica to the northwest and Colombia to the southeast. Located on a narrow strip of land joining the continents of North America with South America, it is flanked by North Pacific Ocean (southwest) and Caribbean Sea (northeast). At its narrowest point, Panama is only 48 kilometers across; thus, affording a unique chance to its visitors to see both Pacific and Caribbean coastlines on the same day.
Panama was a colony of Spain since 1501. It achieved independence from Spain in 1821 to become part of Columbia. Panama became an independent nation in 1903. Panama Canal, which joins Atlantic and Pacific Oceans, is one of the most important trade routes in the world.
There is enough natural endowment in Panama to rank it among the best tourist destinations of the world. However, much of these have remained unnoticed by vacationers, sparing its attractions from usual crowd expected of a place of matching caliber. Panama offers the best of Caribbean and Pacific experiences from its more than 1500 islands scattered off its either coastlines. The San Blas Archipelago, which has hundreds of islets, is enchanting with coral ringed islands and beaches lined with palm trees. It is also home to Kuna Indians, who are known for their primitive lifestyle.
Pearl Islands, off Panama's Pacific Coast, are known for white sandy beaches and unexplored forests. It is possible to find a private beach on one of its uninhabited islands for an exotic experience. Contadora, the most developed and fifth largest island in the archipelago, offers modern facilities, which include a golf course. The Isla Bastimentos feature Caribbean architecture and has no road. National Marine Park is an important attraction of this island, besides its white sandy beaches. Beaches of Panama are ideal for water sports such as fishing, snorkeling, diving, surfing, kayaking and sailing.
Panama City, the capital of Panama, is an interesting blend of modern America and old Spain. President's Palace, Plaza de Francia and San Jose Church are some of the notable landmarks of the city. However, the country's Spanish legacy is best displayed in Portobelo, a colonial town. Chiriqui Province features picturesque landscape composed of volcanic highlands, waterfalls and coffee plantations. Panama has an amazing biodiversity and it is regarded as a paradise for birdwatchers with about 1000 species of birds. Soberania National Park and Baru National Park are best spots for this activity.
Panama Traveler Advice
User blogs:
The Easy Way to Find Your Next Flight
Not everyone has experienced the convenience of looking for and booking air travel online. For some people who are not used to online shopping, or for those learning how to browse for the first time it can be a little intimidating at first. It seems like there are a lot of advertisements telling people where to go to book their flight online, but not many articles that take a step-by-step approach ... Read full Blog post
The biggest problem traveling with Bike
The biggest problem for traveling by bike is Transport to the start and from the end of our trip. As a personal trainer I had no big problem with this but I remember like it was yesterday, especially when they come these hot days, when we were kids (that a few decades ago) the only opportunity we had to practice was to grab our bikes cycling, upload them to the door of our house and out from ... Read full Blog post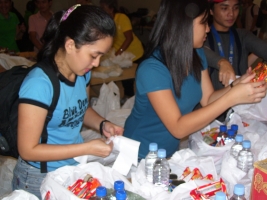 Volunteering for typhoon Ketsana victims
"There's nothing stronger than the heart of a volunteer," says a general in the movie Pearl Harbor. True enough, typhoon Ondoy (internationally nicknamed Ketsana) may have proven its might by destroying hundreds of lives and hundreds more in houses and properties, yet this monster-of-a-calamity did not win in devastating the faith and Good Samaritan-spirit of thousands of men and ... Read full Blog post