48HourVisit.com

Planning a short visit? Check out

48HourVisit.com

, your online guide for short stays and weekend getaways.

Ad
Jamaica captures the spontaneity of the joy and sorrows of its people. While rum, coffee, rice and peas continue to pervade their soul, profound music traditions and centuries-old customs remains embedded in the very existence of the Jamaican people. For centuries the country has welcomed visitors of all persuasions, from pirates to planters, to writers and movie stars, Jamaica remains today as one of the best tourist destinations in the planet.
It's easy to be lyrical when you talk about Jamaica - the glow of its sunsets, the inimitable and engaging ways of its people, the fascinating white sandy beaches and lush green mountains, to name a few. What separates Jamaica however, is the rhythm of its festive beach culture that gave rise to a wave of contemporary music the world now enjoys. From samba to rumba to the now famous reggae music, Jamaica is an image that is fun and young.
Tourists who come in droves take pleasure in the unspoilt tropical delights of Turtle and Mallard Beach, a place for MTV music and all-night parties. The west and north part of the coastlines are packed by beach resorts and hotels. Attractions range from verdant parks to conspicuous colonial towns and neon-lit nightlife. The Port Antonio in northeast Jamaica is known for its great natural beauty attracting a mix of tourist with its exquisite sand and excellent restaurants. (The Boston Beach is the place to go for authentic Jamaican jerk chicken!)
Tread a short distance more to discover street markets of yam and breadfruit as vendors proudly hawk kulu kulu rum. Walk around the quaint fishing villages of Treasure Beach and Oracabessa, silent retreats that offer a glimpse of Jamaica's quieter side. It is not surprising that writers, artists, musicians and actors come here to replenish the creative spirit. Somehow the commercialization has not spoiled the allure of Jamaica. It still presents a magnificent kaleidoscope of color and splendor amidst seductive settings.
Jamaica Traveler Advice
User blogs:
The Easy Way to Find Your Next Flight
Not everyone has experienced the convenience of looking for and booking air travel online. For some people who are not used to online shopping, or for those learning how to browse for the first time it can be a little intimidating at first. It seems like there are a lot of advertisements telling people where to go to book their flight online, but not many articles that take a step-by-step approach ... Read full Blog post
The biggest problem traveling with Bike
The biggest problem for traveling by bike is Transport to the start and from the end of our trip. As a personal trainer I had no big problem with this but I remember like it was yesterday, especially when they come these hot days, when we were kids (that a few decades ago) the only opportunity we had to practice was to grab our bikes cycling, upload them to the door of our house and out from ... Read full Blog post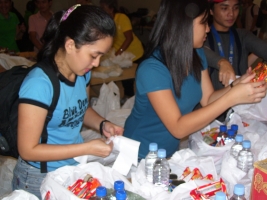 Volunteering for typhoon Ketsana victims
"There's nothing stronger than the heart of a volunteer," says a general in the movie Pearl Harbor. True enough, typhoon Ondoy (internationally nicknamed Ketsana) may have proven its might by destroying hundreds of lives and hundreds more in houses and properties, yet this monster-of-a-calamity did not win in devastating the faith and Good Samaritan-spirit of thousands of men and ... Read full Blog post