48HourVisit.com

Planning a short visit? Check out

48HourVisit.com

, your online guide for short stays and weekend getaways.

Ad
A picturesque land with counties, The Republic of Ireland is Europe's third largest island. Lying to the west of Great Britain, separated by the Irish Sea, this marvelous land with pristine waters reflecting titanic mountains and the warm cottages dotting the countryside lend a certain warmth. More appealing are the Irish hospitality and Irish folk music that's world-famous.
The capital Dublin, looks majestic spanned with 10 bridges. The famed Trinity College (Mother of all Universities), founded by Queen Elizabeth lies in the heart of Dublin. The 18th century Dublin Writers Museum houses the works of some of Ireland's noted writers, such as Yeats, Swift and Shaw. Other exhibits are paintings, photographs and memorabilia of many writers.
Phoenix Park and Dublin Zoological Gardens contain a variety of reptiles, animals and birds. The Temple Art Area is frequented because of the theatre, pubs, restaurants, and cafes are located here. There's a 13th century Castle which is a must-see.
Along River Lee, is Cork County, the largest county. Blarney Castle is located amidst scenic woodlands, hidden by tall trees. Cobh, one of the 3 islands, is witness to many disasters-the Lusitania sank in this harbor and Cobh was the last port for the Titanic! Just above the port, is St. Colman's Cathedral, a splendid architectural marvel with a neo-Gothic spire and a 47 bell carillon weighing 7,700 pounds. The mosaic flooring is exquisite and so are the colored windows. The 18th century St. Anne's Church is interesting with its bells and the four faced liar clock, where the time is different on each side! Fota Wildlife Park has an assortment of animals, and is the world's largest breeder of cheetahs. Kinsale is a picturesque harbor, where natives enjoy fishing. Nearby are art galleries and museums.
Galway County boasts of a vibrant nightlife, replete with jazz and Western Classical music reverberating in many pubs. Connemara, located north of Galway, is breathtaking with its un-spoilt beauty. Connemara National Park is an attraction with 3-D models and ancient houses in ruins, casting a spell of yesteryears. The Kylemore Abbey is home to the Benedictine Nuns and their international boarding school for girls. The craft shop and the pottery made by nuns is a must-see.
Scale the heights of the highest mountain in Ireland, Carrantuohill in Kerry County which offers a panoramic view of the gorgeous lakes below, surrounded by oak woods. Gallarus Oratory is an interesting 8th century church built without mortar, by just placing large stones at the bottom and reducing the size atop. The amazing construction makes the church still water-tight.
Nature has bestowed all her bounties to Mayo with majestic mountains, quaint cliffs, valleys and beaches. The Shrine of Our Lady of Knock is powerful, with many miracles. The Megalithic Passage Tombs of Newgrange, Meath County is amazing with its prehistoric monuments of 3,100 B.C.
Clonmacnoise, Offaly County is a famous monastic site, with ruins of a cathedral, 8 churches and 3 high crosses.
The Temple Bar Area and the pubs in Belfast are places to frequent for a pulsating nightlife. Local musicians enthrall you, as you sip your beer, conversing with friends. Coopershill is an enchanting hotel at Riverstone, as you pass quiet old churches and illuminated pubs.
Ireland Traveler Advice
User blogs:
The Easy Way to Find Your Next Flight
Not everyone has experienced the convenience of looking for and booking air travel online. For some people who are not used to online shopping, or for those learning how to browse for the first time it can be a little intimidating at first. It seems like there are a lot of advertisements telling people where to go to book their flight online, but not many articles that take a step-by-step approach ... Read full Blog post
The biggest problem traveling with Bike
The biggest problem for traveling by bike is Transport to the start and from the end of our trip. As a personal trainer I had no big problem with this but I remember like it was yesterday, especially when they come these hot days, when we were kids (that a few decades ago) the only opportunity we had to practice was to grab our bikes cycling, upload them to the door of our house and out from ... Read full Blog post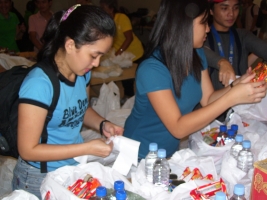 Volunteering for typhoon Ketsana victims
"There's nothing stronger than the heart of a volunteer," says a general in the movie Pearl Harbor. True enough, typhoon Ondoy (internationally nicknamed Ketsana) may have proven its might by destroying hundreds of lives and hundreds more in houses and properties, yet this monster-of-a-calamity did not win in devastating the faith and Good Samaritan-spirit of thousands of men and ... Read full Blog post