48HourVisit.com

Planning a short visit? Check out

48HourVisit.com

, your online guide for short stays and weekend getaways.

Ad

The Glossary

Laissez-passer - "a traveler permit asked at Côte d'Ivoire's many checkpoints. This is a must-have for tourists so they can visit any destination in the land."
Côte d'Ivoire Travel Guide

/
Africa
/
Côte d'Ivoire
/ Introduction
For surfers, wildlife wanderers, or for cultural junkies, Côte d'Ivoire in West Africa has a little of everything for everybody. Formerly known as "Ivory Coast," Côte d'Ivoire (pronounced Coat di-Vwar) had been Africa's economic miracle. It was the route of an illustrious North African gold trade during the times of the Roman Empire. Numerous kingdoms ruled its regions and cities, and in the '60s, the nation became West Africa's richest. By the '70s, Côte d'Ivoire became the world's third largest coffee producer and the global leader in cocoa, pineapple and palm oil exports. Nonetheless, all these changed because of continuing internal power struggles between the country's French colonists and the natives who resisted foreign control.
Although political unrest continues to pose a threat to tourists and businesses in Côte d'Ivoire, many still want to explore the remnants of its glorious past and savor the charm of its struggling present. Modernity sets Côte d'Ivoire apart from its neighboring nations, and this can be clearly seen in Abidjan's famous glittering skyscrapers and Yamoussoukro's majestic basilica, a replica of Rome's St. Peter's. The country also boasts of a modern airways system that takes one to some of West Africa's best natural attractions such as the World Heritage Sites and safaris of Parc National de Taï, Camoe National Park and Mount Nimba Strict Nature Reserve; a ribbon of Caribbean-like beaches along the Atlantic coast; and the lush panoramic escapes of the Southwestern Forests and Eastern Plantations.
Tradition is also at Côte d'Ivoire's tourism plate. Grand Bassam has avenues lined with the charm of colonial homes. There are more than 60 ethnic groups scattered across the country, ready to astonish visitors with arts and crafts like Korhogo (animal-painted cloth) and musical festivals such as Man (Festival of Masks). Various native dishes such as the attiéké (spiced braised chicken) and shougouilla (charbroiled meat) beckon the visitors. Street vendors are approached often for their aloko (spiced bananas), while bars are frequented for their bangui (palm wine).
Côte d'Ivoire Landmarks:
Côte d'Ivoire Traveler Advice
User blogs:
The Easy Way to Find Your Next Flight
Not everyone has experienced the convenience of looking for and booking air travel online. For some people who are not used to online shopping, or for those learning how to browse for the first time it can be a little intimidating at first. It seems like there are a lot of advertisements telling people where to go to book their flight online, but not many articles that take a step-by-step approach ... Read full Blog post
The biggest problem traveling with Bike
The biggest problem for traveling by bike is Transport to the start and from the end of our trip. As a personal trainer I had no big problem with this but I remember like it was yesterday, especially when they come these hot days, when we were kids (that a few decades ago) the only opportunity we had to practice was to grab our bikes cycling, upload them to the door of our house and out from ... Read full Blog post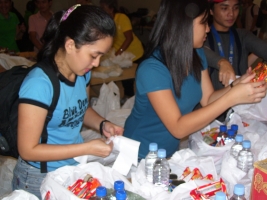 Volunteering for typhoon Ketsana victims
"There's nothing stronger than the heart of a volunteer," says a general in the movie Pearl Harbor. True enough, typhoon Ondoy (internationally nicknamed Ketsana) may have proven its might by destroying hundreds of lives and hundreds more in houses and properties, yet this monster-of-a-calamity did not win in devastating the faith and Good Samaritan-spirit of thousands of men and ... Read full Blog post