48HourVisit.com

Planning a short visit? Check out

48HourVisit.com

, your online guide for short stays and weekend getaways.

Ad
In between giants France and Spain is the tiny country of Andorra, sitting silently atop the Pyrenees Mountains as one of the oldest nations in Europe. A ruggedly scenic country, it is a land of narrow valleys and snow-covered mountainous terrain, which makes it an idyllic skiing, shopping, and tax haven (there are no income taxes here).
Andorra was originally established by the famed French King Charlemagne primarily to serve as a buffer state against the Iberian Muslims. For 715 years since 1278, control over the country was split between the French king and the Spanish Bishop of La Seu d'Urgell. This one-of-a-kind power arrangement endured until the end of the 20th century, when the government became a parliamentary democracy. Long been isolated from the outside world, Andorra has since reached significant prosperity through its burgeoning tourism industry.
Activities galore
The driving force behind the country's tourism is its skiing grounds. Andorra boasts of numerous major ski locations, the most famous being Grandvalira and Vall Nord, which cater to all kinds of skiers.
For non-skiing enthusiasts, the country is still a must-visit as it features plenty of opportunities for hiking, horse riding, golfing, dining and duty-free shopping. There is also the reputed Madriu-Perafita-Claror Valley, Adorra's first, and to date, only UNESCO World Heritage Site. The "spiritual heart" of the land, it is an isolated glacial valley recognized as a haven for rare and endangered wildlife.
Gastronomic delights
Andorran cuisine is characterized as Catalan, brought about by the influence of neighboring France and Spain, using elements from various cooking traditions and adding it to their traditional dishes. Attention to detail is the most important aspect of the Andorrans' food - using the right amount of spices for garnishing and coloring is very essential. Local delicacies are trinxat - a dish made of bacon, cabbage and potatoes; cunillo - a stew made of rabbit and tomato sauce; coques - a kind of flavored flat cakes; and truites de carreroles, which is actually just mushroom omelet.
User blogs:
The Easy Way to Find Your Next Flight
Not everyone has experienced the convenience of looking for and booking air travel online. For some people who are not used to online shopping, or for those learning how to browse for the first time it can be a little intimidating at first. It seems like there are a lot of advertisements telling people where to go to book their flight online, but not many articles that take a step-by-step approach ... Read full Blog post
The biggest problem traveling with Bike
The biggest problem for traveling by bike is Transport to the start and from the end of our trip. As a personal trainer I had no big problem with this but I remember like it was yesterday, especially when they come these hot days, when we were kids (that a few decades ago) the only opportunity we had to practice was to grab our bikes cycling, upload them to the door of our house and out from ... Read full Blog post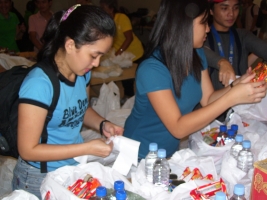 Volunteering for typhoon Ketsana victims
"There's nothing stronger than the heart of a volunteer," says a general in the movie Pearl Harbor. True enough, typhoon Ondoy (internationally nicknamed Ketsana) may have proven its might by destroying hundreds of lives and hundreds more in houses and properties, yet this monster-of-a-calamity did not win in devastating the faith and Good Samaritan-spirit of thousands of men and ... Read full Blog post