48HourVisit.com

Planning a short visit? Check out

48HourVisit.com

, your online guide for short stays and weekend getaways.

Ad
Belarus is not only landlocked in Eastern Europe; it is also sealed in the Soviet time capsule. Although already an independent nation, Belarus is still in a two-country union with Russia. Hence, it is only in Belarus where anyone could know how it's like to live within the Iron Curtain, be wire-tapped by modern-day KGB's, and be ruled with an iron fist by a tyrant president, which is the reason why Belarus is one of the last-remaining authoritarian states in Europe. The repressive government, however, has achieved a nearly zero crime rate all over the nation, ensuring visitors a relatively safe travel to discover the country's patchwork culture, architectural feats, forests, and at least 11,000 lakes.
Russian flavor
The capital city, Minsk, is the opera and ballet center of Belarus. The city is a testament to the country's Soviet ideology, with its orderly streets and Stalinist buildings. Nightclubs, boutiques, and cafés, however, have found a place within this "strictly communist" city. Among the modern constructions here is the UFO-looking National Library of Belarus, home to the country's biggest collection of books and the third biggest repository of Russian books.
Ancient forests
At the border with Poland is Brest, home to Resurrection Church, a bomb-shaped church built in the memory of WWII victims. The church can hold up to 5,000 worshippers. Another landmark in Brest is the World Heritage-listed Belovezhskaya Pushca National Park, the biggest and one of the last remaining vast primeval forests in Europe. It is a fairytale-like primitive forest that shelters mammals such elks, wild horses, bisons, wild boars, and about 800 wisent, Europe's heaviest land animals.
World Heritage Sites
Belarus has three other World Heritage Sites: the Mir Castle Complex with a 15th century Gothic-Renaissance design; the 16th century Niasvizh Castle; and the 19th century Struve Geodetic Arc, a series of over 500 giant geodetic devices set up by a German-born scientist to determine the exact size and shape of the Earth.
Belarus Landmarks:
Belarus Traveler Advice
User blogs:
The Easy Way to Find Your Next Flight
Not everyone has experienced the convenience of looking for and booking air travel online. For some people who are not used to online shopping, or for those learning how to browse for the first time it can be a little intimidating at first. It seems like there are a lot of advertisements telling people where to go to book their flight online, but not many articles that take a step-by-step approach ... Read full Blog post
The biggest problem traveling with Bike
The biggest problem for traveling by bike is Transport to the start and from the end of our trip. As a personal trainer I had no big problem with this but I remember like it was yesterday, especially when they come these hot days, when we were kids (that a few decades ago) the only opportunity we had to practice was to grab our bikes cycling, upload them to the door of our house and out from ... Read full Blog post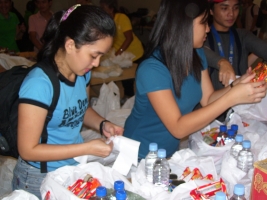 Volunteering for typhoon Ketsana victims
"There's nothing stronger than the heart of a volunteer," says a general in the movie Pearl Harbor. True enough, typhoon Ondoy (internationally nicknamed Ketsana) may have proven its might by destroying hundreds of lives and hundreds more in houses and properties, yet this monster-of-a-calamity did not win in devastating the faith and Good Samaritan-spirit of thousands of men and ... Read full Blog post