48HourVisit.com

Planning a short visit? Check out

48HourVisit.com

, your online guide for short stays and weekend getaways.

Ad

The Glossary

Krafne - "known as the Samobor doughnut, it is a soft round bread that features a delicious filling of either custard, chocolate or jelly."
Quaint villages, picturesque coastlines and ample history make Croatia one of the most coveted destinations in Europe. Although the war that took place in the early 1990s stopped tourism to Croatia for some time, visitors have returned in force to restore the country's thriving tourism industry. There is something for everyone in this scenic European country, from the picturesque resorts along the Adriatic Sea to the northern mountain of Medvednica, located in one of Croatia's many nature preserves.
Beach getaways
The tranquil Mediterranean climate, thousands of offshore islands and a seemingly endless coastline make Croatia's Adriatic Sea an ideal place to get away. With beautiful beaches, natural harbors, numerous bays, ports and marinas, there seems no shortage of sun drenched activities in Croatia. Visitors to Croatia's beautiful beaches enjoy biking, hiking, windsurfing, sailing, scuba diving and dozens of other outdoor activities. When the sun sets, Croatia comes alive with a bustling nightlife in the countless bars and clubs along the coast. Notable beaches in Croatia include Zlatni Rat Beach, Baska Beach, Lopud, Paradise Beach and Trstenica.
Countryside, city and castle tour
Croatia 's unspoiled countryside provides opportunities for hiking, cycling and mountain climbing at almost every turn. Additionally, Croatia is far less expensive to travel through than most other western European countries, making it an ideal stop on any European backpacking excursion.
Although there are numerous inland destinations in Croatia that should be explored, the capital city of Zagreb is not to be missed. Zagreb is really two cities: Lower Town and Upper Town. Culture abounds in this place, with its museums, castles, historic buildings, street markets and religious shrines. While in Zagreb many visitors enjoy a castle tour, they can also take a stroll through Trg Jelacica, a quick shopping excursion at the Dolac market, a tour of the City Museum, or down the colorful Tkalciceva Street.
Croatia Traveler Advice
Croatia photography
People having fun on a hot summer day by
Communitriper

View from St. Michael's fortress by
Communitriper

Sunset near Biograd by
Communitriper

One of the many islands on the coastal way to Rijeka by
Communitriper
User blogs:
The Easy Way to Find Your Next Flight
Not everyone has experienced the convenience of looking for and booking air travel online. For some people who are not used to online shopping, or for those learning how to browse for the first time it can be a little intimidating at first. It seems like there are a lot of advertisements telling people where to go to book their flight online, but not many articles that take a step-by-step approach ... Read full Blog post
The biggest problem traveling with Bike
The biggest problem for traveling by bike is Transport to the start and from the end of our trip. As a personal trainer I had no big problem with this but I remember like it was yesterday, especially when they come these hot days, when we were kids (that a few decades ago) the only opportunity we had to practice was to grab our bikes cycling, upload them to the door of our house and out from ... Read full Blog post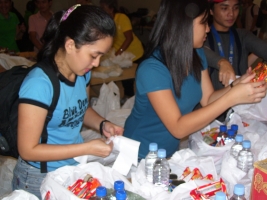 Volunteering for typhoon Ketsana victims
"There's nothing stronger than the heart of a volunteer," says a general in the movie Pearl Harbor. True enough, typhoon Ondoy (internationally nicknamed Ketsana) may have proven its might by destroying hundreds of lives and hundreds more in houses and properties, yet this monster-of-a-calamity did not win in devastating the faith and Good Samaritan-spirit of thousands of men and ... Read full Blog post