48HourVisit.com

Planning a short visit? Check out

48HourVisit.com

, your online guide for short stays and weekend getaways.

Ad
Angola is a country in south central Africa being surrounded by Namibia to the south, Congo to the north, Zambia to the east and the Atlantic Ocean along the west coast. Even though Angola is the largest produces of petroleum and the ever precious diamonds,, it still falls under the league of a developing country. However the new peace acquired in Angola is enabling international visitors to sample the delights and attractions offered by this beautiful country. It is becoming a tourist attraction par excellence hallmarked with its rich culture, exotic beaches and wild mountainous interior.
Angola offers its visitors a distinct and unique experience in each of its 18 provinces and each one of them is a kaleidoscope of extensive landscapes, diverse cultures and vast open plains. Nature mother has liberally bestowed Angola with a dramatic landscape with plunging water falls, awe inspiring rock formations and deep gorges. The unmistakable Leba Mountain in the Hulla province provides a birds view of the enormous Namibe desert. The Calendula waterfalls in the Malange, cascading down rock faces creates a spectacular and an unmatchable picture. A visit to Angola is made even more memorable and enchanting by the natural hospitality and friendly attitude of the Angolans. The capital city of Angola, Luanda hosts the Benefica handicrafts market, an open air market where the local artisans and craftsmen sell their wares ranging from batik clothes to sculptures, from jewelry to paintings.
If you are an ace at bargaining, then you are sure to bag some wonderful deals. Around Luanda, the main places to visit are the fortress which shelters the Museum of Armed forces, the national museum of anthropology and the museum of slavery. Benguela, a coastal city in Angola is known as the cultural capital of Angola with a small town ambience but a bustling city life. You will also find diamond dusted beaches in Benguela where you can feel serene and secluded. The sensual dance movements, foot tapping rhythms form a combination of African, south and Central American music all set your heart racing and mind wandering. Angola is richly endowed with almost virgin wildlife parks, Africa's second largest waterfall, iconic beaches and a new era of peace and stability which increases its opportunity fro exploration and attracting even more foreign tourists.
Angola Traveler Advice
User blogs:
The Easy Way to Find Your Next Flight
Not everyone has experienced the convenience of looking for and booking air travel online. For some people who are not used to online shopping, or for those learning how to browse for the first time it can be a little intimidating at first. It seems like there are a lot of advertisements telling people where to go to book their flight online, but not many articles that take a step-by-step approach ... Read full Blog post
The biggest problem traveling with Bike
The biggest problem for traveling by bike is Transport to the start and from the end of our trip. As a personal trainer I had no big problem with this but I remember like it was yesterday, especially when they come these hot days, when we were kids (that a few decades ago) the only opportunity we had to practice was to grab our bikes cycling, upload them to the door of our house and out from ... Read full Blog post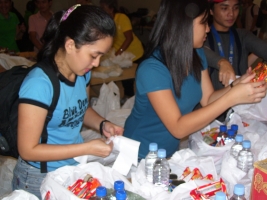 Volunteering for typhoon Ketsana victims
"There's nothing stronger than the heart of a volunteer," says a general in the movie Pearl Harbor. True enough, typhoon Ondoy (internationally nicknamed Ketsana) may have proven its might by destroying hundreds of lives and hundreds more in houses and properties, yet this monster-of-a-calamity did not win in devastating the faith and Good Samaritan-spirit of thousands of men and ... Read full Blog post