48HourVisit.com

Planning a short visit? Check out

48HourVisit.com

, your online guide for short stays and weekend getaways.

Ad
Libya is an ancient land. Greeks, Romans, Turks, Byzantines, Vandals and Italians have all have left their influences here. However, Libya, a North African country, essentially exudes Arabic essence. It is bounded by Mediterranean Sea on the north and shares borders with Egypt (east), Tunisia (northwest), Algeria (west), Chad, Niger (south) and Sudan (southeast). There are evidences of Neolithic settlement in this area dating back to eight millennium BC. Once upon a time, Tripolitania and Cyrenaica were affluent Roman provinces.
Libya was one of the few colonies of Italy from 1912. It was under the British control during and after World War II and became an independent country in 1951. Discovery of oil reserves has helped the country transform itself from a poor to rich country. Most of Libya's beauty is unspoilt by tourism mainly due to its authoritarian military past.
From extensive coastline to vast Saharan desert, Libya offers great diversity. The country has 2000 kilometers of Mediterranean coastline. A number of stunning unspoilt beaches are located around Benghazi, the second largest city of the country on the Gulf of Sirte. Benghazi offers a wide variety of water sports including sailing, windsurfing, scuba diving, snorkeling, water skiing and swimming. Ras Alteen Beach is favorite both among locals and tourists. Tileel Beach (near Sabratha) is well known for white powdery sand and clear waters.
As Libya has been at the crossroads of many mighty empires, the country has numerous place where they have left their marks. Leptis Magna, the remains of ancient Roman settlement, is regarded as the best preserved Roman settlement in the world. The site features the Severan Arch, granite lined Hadrianic Baths, an extensive basilica and amphitheater. Tripoli, the capital city of Libya, have many sites bearing testimony to its rich heritage. Assai al-Hamra, or the Red Castle, the Arch of Marcus Aurelius and Jamahiriya Museum are important attractions. Arabic influence is most evident in Medina, Tripoli's Old City, also a major tourist attraction.
Ghadames, in western Libya, is a popular desert destination. Zallaf Sand Dunes is picturesque with saline lakes and palm trees. One can see and admire Sahara's rock art in the Akakus Mountains.
User blogs:
The Easy Way to Find Your Next Flight
Not everyone has experienced the convenience of looking for and booking air travel online. For some people who are not used to online shopping, or for those learning how to browse for the first time it can be a little intimidating at first. It seems like there are a lot of advertisements telling people where to go to book their flight online, but not many articles that take a step-by-step approach ... Read full Blog post
The biggest problem traveling with Bike
The biggest problem for traveling by bike is Transport to the start and from the end of our trip. As a personal trainer I had no big problem with this but I remember like it was yesterday, especially when they come these hot days, when we were kids (that a few decades ago) the only opportunity we had to practice was to grab our bikes cycling, upload them to the door of our house and out from ... Read full Blog post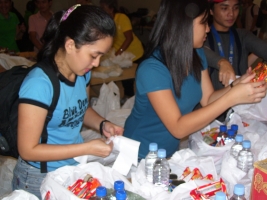 Volunteering for typhoon Ketsana victims
"There's nothing stronger than the heart of a volunteer," says a general in the movie Pearl Harbor. True enough, typhoon Ondoy (internationally nicknamed Ketsana) may have proven its might by destroying hundreds of lives and hundreds more in houses and properties, yet this monster-of-a-calamity did not win in devastating the faith and Good Samaritan-spirit of thousands of men and ... Read full Blog post