48HourVisit.com

Planning a short visit? Check out

48HourVisit.com

, your online guide for short stays and weekend getaways.

Ad
Dominica is a land of superlatives when it comes to natural beauty. That is why it is also called 'the Nature Isle of the Caribbean'. An island of Lesser Antilles that is still under formation, Dominica is located between the North Atlantic Ocean and Caribbean Sea. Christopher Columbus, a renowned Spanish sea explorer and colonizer, was the first European to discover it in 1493.
However, the island was claimed by France in 1635, before coming under British control in 1763. It attained independence in 1978. Unlike other Caribbean destinations, Dominica is known more for its unspoiled nature than its beaches. Its main attractions include lush mountains and rain forests full of rare wildlife, besides awe-inspiring geological phenomenon like the Boiling Lake.
The hike to the The Boiling Lake, which is a large water body being heated by volcanic activity, through the inhospitable but picturesque Valley of Desolation is just perfect for those looking for unforgettable adventure and eco-tourism experience. This boiling lake, the second largest in the world, is a part of Morne Trois Pitons National Park, a World Heritage Site. The Park also houses the Middleham Falls, Boeri Lake and Freshwater Lake.
Twin waterfalls, named Mother and Father, constituting the Trafalgar Falls is located near Roseau, the capital of Dominica. A major attraction in Dominica, the Trafalgar Falls provide an opportunity to swim in hot and cool water bodies formed by the waterfalls. Cabrits National Park is a protected area for a variety of wildlife and birds.
Most of the beaches in Dominica have black volcanic sands. As the beaches are rocky, they are not suitable for sunbathers. The island's best beaches are located on its northwestern shores near Portsmouth, Dominica's second largest city. Some of these are Hampstead Beach, Picard Beach, Purple Beach and Toucari Beach. Other beaches of Dominica are Champagne (South), Hodges Beach and L'Anse Tortue (both North). The beaches provide just the perfect setting for water sports such as snorkeling and scuba diving. Dominica is a hot spot for whale watching. Its shore on Caribbean Sea is home of sperm whales, dolphins, killer whales and humpback whales.
User blogs:
The Easy Way to Find Your Next Flight
Not everyone has experienced the convenience of looking for and booking air travel online. For some people who are not used to online shopping, or for those learning how to browse for the first time it can be a little intimidating at first. It seems like there are a lot of advertisements telling people where to go to book their flight online, but not many articles that take a step-by-step approach ... Read full Blog post
The biggest problem traveling with Bike
The biggest problem for traveling by bike is Transport to the start and from the end of our trip. As a personal trainer I had no big problem with this but I remember like it was yesterday, especially when they come these hot days, when we were kids (that a few decades ago) the only opportunity we had to practice was to grab our bikes cycling, upload them to the door of our house and out from ... Read full Blog post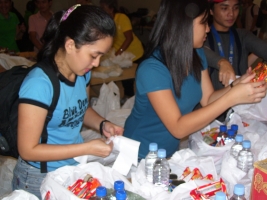 Volunteering for typhoon Ketsana victims
"There's nothing stronger than the heart of a volunteer," says a general in the movie Pearl Harbor. True enough, typhoon Ondoy (internationally nicknamed Ketsana) may have proven its might by destroying hundreds of lives and hundreds more in houses and properties, yet this monster-of-a-calamity did not win in devastating the faith and Good Samaritan-spirit of thousands of men and ... Read full Blog post