48HourVisit.com

Planning a short visit? Check out

48HourVisit.com

, your online guide for short stays and weekend getaways.

Ad
Although Portugal shares Iberian peninsula with Spain, geographically and culturally it has its own distinct identity. Located in the western tip of European continent, it attracts tourists from all over the world for its old fashioned charm, medieval castles, beautiful countryside and sun kissed beaches.
Historically, Portugal has been a country that has produced great explorers. Pedro Alvares Cabral, a Portuguese explorer, is credited with finding Brazil. Portuguese sailors are also believed to have been the first Europeans to discover Australia. In modern times, Portugal was ruled by military dictators. In 1974, democracy was established here.
Algarve, located in the southernmost part, is the leading beach destination of the country. Algarve's stunning coastline stretching 200 kilometers is also one of the most popular holiday spots of Europe. Overlooking the Atlantic Ocean on two sides, a series of low lying mountains geographically separate it from Portugal, while Guadiana River forms the picturesque natural border with Spain. Some of the Europe's most luxurious resorts are located in this area, offering facilities for a wide range of things to do including golf. It also features a vibrant nightlife. Salema and Praia da Rocha are the most popular beaches of Algarve.
Algarve is not only about fun in the sea and sun; it offers its visitors a piece of Portugal's culture and tradition through its ancient churches, castles and fishing villages such as Luz, Burgau and Salema. Beaches along the Portuguese coast offers excellent opportunities for activities such as surfing and kite surfing.
Lisbon, the biggest city of Portugal and its capital, has maintained a strong link with its history. Medieval palaces, magnificent churches and museums dot the cityscape. Castelo de Sao Jorge, located at a hill overlooking the city, Belem, a monument rich neighborhood, Ponte 25 de Abril, a duplicate of Golden Gate of San Francisco, and Alfama, the Muslim neighborhood, are places of great interest.
National Coach Museum, Calouste Gulbenkian Museum, Carmo Archaeological Museum and National Museum of Contemporary Art are worth visiting. However, Lisbon is not only about heritage. It is a cosmopolitan city providing exciting shopping experience and nightlife, besides being a gambling hot spot of Europe with two big casinos.
User blogs:
The Easy Way to Find Your Next Flight
Not everyone has experienced the convenience of looking for and booking air travel online. For some people who are not used to online shopping, or for those learning how to browse for the first time it can be a little intimidating at first. It seems like there are a lot of advertisements telling people where to go to book their flight online, but not many articles that take a step-by-step approach ... Read full Blog post
The biggest problem traveling with Bike
The biggest problem for traveling by bike is Transport to the start and from the end of our trip. As a personal trainer I had no big problem with this but I remember like it was yesterday, especially when they come these hot days, when we were kids (that a few decades ago) the only opportunity we had to practice was to grab our bikes cycling, upload them to the door of our house and out from ... Read full Blog post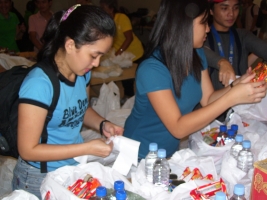 Volunteering for typhoon Ketsana victims
"There's nothing stronger than the heart of a volunteer," says a general in the movie Pearl Harbor. True enough, typhoon Ondoy (internationally nicknamed Ketsana) may have proven its might by destroying hundreds of lives and hundreds more in houses and properties, yet this monster-of-a-calamity did not win in devastating the faith and Good Samaritan-spirit of thousands of men and ... Read full Blog post