48HourVisit.com

Planning a short visit? Check out

48HourVisit.com

, your online guide for short stays and weekend getaways.

Ad
For all its pride and bluster as the self-proclaimed Marxist-Leninist country of the 1960's, Benin is a narrow strip of land wedged in West Africa. Surrounded by its neighboring countries Niger, Togo, Nigeria and Burkina Faso, it is a famed for its very old oral tradition and the palatial ruins concentrated in Cotonou, the country's commercial capital. A home to authentic Ghanaian and Congolese rumba, Benin is also the birthplace of voodoo which is the official religion of the country and an important source of their customs and traditions.
Visitors who get to the country for the first time may be appalled to see shrines of blood-stained and wax coated objects in what is referred to as the fetish market. This is the very spot where sorcerers, traditional healers and witches congregate, crushing and mixing ingredients, and casting spells and incantations to ward off the spirits that seem to haunt the town. More often than not, the ritual is accompanied by the beatings of the drums and a traditional dance called Fon which is said to lead people into a trance when possessed by spirits. However, the fetish market does not merely stand for death and gore; here, troves of bizarre items can be found.
Apart from the fetish market, the stilt villages near Nokoue Lake, housing about 10,000 people, is the place to go if one wants to ride a canoe among the stilt houses or simply wants to hang around and observe fishermen in pirogue wading their way through the lake or watch Somba women on their way to the Malanville market known as a nomadic trader's open air market. Getting to the southern area of Benin offers the view of voodoo hut by the Grand Popo beach, built on a solid foundation of magic and myth.
There are also wildlife parks around Benin such as the Pendjari National Park which are worth a visit. Other important landmarks that one shouldn't miss include the UNESCO Heritages Site Abomey Royal Palace which used to be the house of ancient kings, the eerie skulls in Ghezo's Throne, the sanctuary of the slaves called Route d'Esclaves, and the Portuguese Fort Sao Joao Baptista de Ajuda in Ouidah.
User blogs:
The Easy Way to Find Your Next Flight
Not everyone has experienced the convenience of looking for and booking air travel online. For some people who are not used to online shopping, or for those learning how to browse for the first time it can be a little intimidating at first. It seems like there are a lot of advertisements telling people where to go to book their flight online, but not many articles that take a step-by-step approach ... Read full Blog post
The biggest problem traveling with Bike
The biggest problem for traveling by bike is Transport to the start and from the end of our trip. As a personal trainer I had no big problem with this but I remember like it was yesterday, especially when they come these hot days, when we were kids (that a few decades ago) the only opportunity we had to practice was to grab our bikes cycling, upload them to the door of our house and out from ... Read full Blog post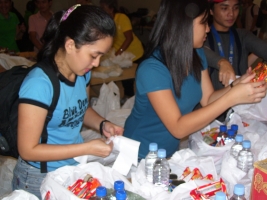 Volunteering for typhoon Ketsana victims
"There's nothing stronger than the heart of a volunteer," says a general in the movie Pearl Harbor. True enough, typhoon Ondoy (internationally nicknamed Ketsana) may have proven its might by destroying hundreds of lives and hundreds more in houses and properties, yet this monster-of-a-calamity did not win in devastating the faith and Good Samaritan-spirit of thousands of men and ... Read full Blog post