48HourVisit.com

Planning a short visit? Check out

48HourVisit.com

, your online guide for short stays and weekend getaways.

Ad
Spain is a country mostly located in south Western Europe on the Iberian Peninsula. Spain is an ideal holiday destination for the whole family. Whether you are in the major cities or rural villages, you will find yourself well attended at any water park, restaurant or museum.
Spanish cities are an oasis of fun and frolic. They have so much to offer for the entire family. Children can be taken to the zoos in Cordoba or aquaria like the one in Barcelona or a theme park which is an endless source of fun, light and thrill. Museums like the Guggenheim museum in Bilbao, the arts and science museum in Valencia and the science park museum in Granada host a series of fun exhibitions with workshops, paintings and interactive areas where you can discover culture in the most appealing way. There are endless ways to enjoy the Spanish coast too. Swimming in warm, crystal clear water diving down to the bright sea beds and chatting with the varied marine life, building sandpits and castles on the shore or exploring the coast line in a boat can make your trip memorable and unique. The Spanish interior is also a home to lakes, mountain ranges, valleys and plateaus. Fishing, horse riding, hiking, or sailing on calm natural reservoirs gives you the perfect opportunity for adventurous fun in a safe environment. The world heritage cities in Spain also have a major contribution in Spain's universal culture. A tour of these cities is a good way to discover Spain's history, culture, artistic wealth and popular traditions. The magnificent monuments, streets that carry you back in time and the unique art and architecture in the world heritage cities is something that cannot be missed. Madrid, Segovia, Cuenca are a few of the spectacular cities with a varied catalogue of monuments, fortresses, renaissance palaces and medieval squares.
The potato omelet is one of Spain's most popular bits and a day spent sampling Spanish tapas is the ideal way to experience Spanish culture and discover its enchanting bars and taverns. To sum it all up, Spain is a beautiful country and is a complete family destination.
User blogs:
The Easy Way to Find Your Next Flight
Not everyone has experienced the convenience of looking for and booking air travel online. For some people who are not used to online shopping, or for those learning how to browse for the first time it can be a little intimidating at first. It seems like there are a lot of advertisements telling people where to go to book their flight online, but not many articles that take a step-by-step approach ... Read full Blog post
The biggest problem traveling with Bike
The biggest problem for traveling by bike is Transport to the start and from the end of our trip. As a personal trainer I had no big problem with this but I remember like it was yesterday, especially when they come these hot days, when we were kids (that a few decades ago) the only opportunity we had to practice was to grab our bikes cycling, upload them to the door of our house and out from ... Read full Blog post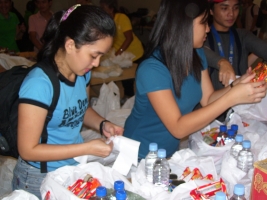 Volunteering for typhoon Ketsana victims
"There's nothing stronger than the heart of a volunteer," says a general in the movie Pearl Harbor. True enough, typhoon Ondoy (internationally nicknamed Ketsana) may have proven its might by destroying hundreds of lives and hundreds more in houses and properties, yet this monster-of-a-calamity did not win in devastating the faith and Good Samaritan-spirit of thousands of men and ... Read full Blog post