48HourVisit.com

Planning a short visit? Check out

48HourVisit.com

, your online guide for short stays and weekend getaways.

Ad
Perhaps no place on earth has influenced human civilization as much as Greece. It was the seat of Greek, Roman and Byzantine Empires. It is the birth place of democracy and Olympics. However, there is more to Greece than its affluent heritage. Its beaches, landscapes and mountains are among the most picturesque in the world. Greece is located on the southeastern tip of Europe. It is bordered by Albania, Bulgaria, Aegean Sea and Ionian Sea. It has a vast number of islands, which are very popular among tourists.
Greece has a whopping 16000 km of coastline, a major share of which is accounted for by its islands. Greek coastline, dotted with hundreds of popular beaches, is famous for its crystal clear waters, mild climate, high percentage of sunshine and the variety that it offers. From miles of golden sand, small bays and coves, dunes, coastal caves to rugged secluded beaches, it offers everything. Here, one can indulge in a host of water sports including water skiing, windsurfing, diving, para sailing and jet skiing. Greek Archipelago consists of thousands of islands, out of which only about 225 are inhabited. The islands are developed tourism destination with vacationers flocking here from all parts of the world. There are seven groups if islands in Aegean Sea and one in the Ionian Sea.
Even as beaches in Greece are impressive, it is predominantly a mountainous country. The Pindus Mountains, stretching from central Greece to Crete, are its main mountain range. Highest peak of Mount Olympus (in Macedonia), abode of the Gods as per Greek mythology, soars 2917 m. Mountains of Greece present rich flora and fauna and breathtaking landscapes. Those who come here looking for adventure can try skiing, hiking, hand gliding and para gliding. Greece is also a popular destination for ecotourism.
Greece has been occupying a place of prestige since ages. As such there are countless monuments, which tells the story of its glory. Some of these are, the Monastery Complex of Aghio Oros (in Mt. Athos), the Acropolis of Athens, the Temple of Epicurean Apollo (in Vassae) and archaeological sites of Delphi and Delos.
Greece Traveler Advice
Greece photography
Amorgos, Greece by
Nikos Platis
User blogs:
The Easy Way to Find Your Next Flight
Not everyone has experienced the convenience of looking for and booking air travel online. For some people who are not used to online shopping, or for those learning how to browse for the first time it can be a little intimidating at first. It seems like there are a lot of advertisements telling people where to go to book their flight online, but not many articles that take a step-by-step approach ... Read full Blog post
The biggest problem traveling with Bike
The biggest problem for traveling by bike is Transport to the start and from the end of our trip. As a personal trainer I had no big problem with this but I remember like it was yesterday, especially when they come these hot days, when we were kids (that a few decades ago) the only opportunity we had to practice was to grab our bikes cycling, upload them to the door of our house and out from ... Read full Blog post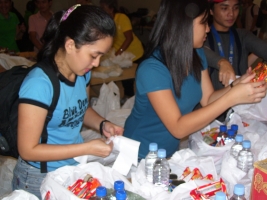 Volunteering for typhoon Ketsana victims
"There's nothing stronger than the heart of a volunteer," says a general in the movie Pearl Harbor. True enough, typhoon Ondoy (internationally nicknamed Ketsana) may have proven its might by destroying hundreds of lives and hundreds more in houses and properties, yet this monster-of-a-calamity did not win in devastating the faith and Good Samaritan-spirit of thousands of men and ... Read full Blog post