48HourVisit.com

Planning a short visit? Check out

48HourVisit.com

, your online guide for short stays and weekend getaways.

Ad

The Glossary

Magada - "means "Please.""
Nauru Travel Guide

/
South Pacific
/
Nauru
/ Introduction
An egg-shaped isle west of the Pacific, Nauru is the world's smallest island nation and independent republic. Following the discovery of huge phosphate deposits in 1900, there occurred an economic boom that made Nauru one of the world's wealthiest nations, although that fortune was short-lived since most of the country's resources have been depleted. Nevertheless, some signs of its former incarnation as "Pleasant Island" can still be perceived, like a unique Polynesian culture. Other attractions include gaudy corals on shallow water and native avian wonders.
The whale hunter, British Captain John Fearn became the first outsider to land in the nation in 1978 and it was he who named it "Pleasant Island." Nauruans descended from Micronesian and Polynesian seafarers who believed that they had come from the female deity, Eijebong, and a spirit land called Buitani. There were originally 12 tribes on the island, and they are represented on the national flag's 12-point star. Two of these tribes have disappeared during the 20th century although their traditional Polynesian culture persists in hobbies like lassoing noddy terns (seabirds) every sunset. Besides the birds, they also catch ibijas (fish) and crabs, and gather coconuts and pandanus fruit for their meals.
Since it is south of the equator, the humid climate allows the growth of pineapples and bananas in the Buada Lagoon where we find the concentration of the population. This area is considered as Nauru's most romantic feature. Campers and hikers usually stay at the coral cliffs surrounding Topside, the central plateau, whose highest point is the Command Ridge. There are no native animals, except for birds like the endemic Nauru Reed Warbler.
Wartime relics scattered all over the island serve as an invaluable reminder that during the first two world wars, the Allied and Axis powers took turn in managing Nauru. That situation continued until the country achieved independence in 1968. Every October, the Nauruans celebrate Angam Day or "Day of Fulfillment" to rejoice their recovery from the world wars.
Nauru can be reached by aircraft from Brisbane. Buses and rented cars ply all over the island. Australian dollar is the country's currency. Although Nauri is the first language, English is also widely spoken.
Nauru Traveler Advice
User blogs:
The Easy Way to Find Your Next Flight
Not everyone has experienced the convenience of looking for and booking air travel online. For some people who are not used to online shopping, or for those learning how to browse for the first time it can be a little intimidating at first. It seems like there are a lot of advertisements telling people where to go to book their flight online, but not many articles that take a step-by-step approach ... Read full Blog post
The biggest problem traveling with Bike
The biggest problem for traveling by bike is Transport to the start and from the end of our trip. As a personal trainer I had no big problem with this but I remember like it was yesterday, especially when they come these hot days, when we were kids (that a few decades ago) the only opportunity we had to practice was to grab our bikes cycling, upload them to the door of our house and out from ... Read full Blog post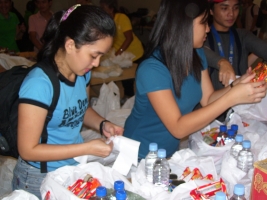 Volunteering for typhoon Ketsana victims
"There's nothing stronger than the heart of a volunteer," says a general in the movie Pearl Harbor. True enough, typhoon Ondoy (internationally nicknamed Ketsana) may have proven its might by destroying hundreds of lives and hundreds more in houses and properties, yet this monster-of-a-calamity did not win in devastating the faith and Good Samaritan-spirit of thousands of men and ... Read full Blog post