48HourVisit.com

Planning a short visit? Check out

48HourVisit.com

, your online guide for short stays and weekend getaways.

Ad
The ninth largest country in Europe, Poland seems to have seen more heartbreak than smiles throughout the course of its history. After being conquered by countless invaders and empires, the worst blow fell upon Poland during the infamous Second World War, when the country lost more than 20 percent of its population (including most of its best and brightest) and suffered the destruction of its major cities, including its cultural heritage and economy. The war did not break the Polish people, though, and only served to strengthen them. Today, the country has since risen out of the ashes and emerged as a tourist staple, ironically using the harrowing reminders of its past as points of interest.
Poland is home to numerous UNESCO World Heritage Sites, one of which is Cracow's Historic Center, which has the largest market square in Europe. Its history dates back to the 13th century, and one can still see the traces of its ancient city walls and the medieval Jewish district. It also features the renowned Jagiellonian University, the Kazimierz, the Renaissance Royal Castle, and the Gothic Wawel Cathedral, which once served as the burial site of many of Poland's past kings.
Another attraction worthy of attention is the Historic Center of Warsaw, which was inscribed as a World Heritage Site in 1980. Found in the country's capital, it features carefully reconstructed historical buildings that date anywhere between the 13th and the 20th centuries. Since the city is almost completely annihilated by the German Nazis during the Warsaw Uprising, the fragments that remained in the city were painstakingly pieced back together. Today, the city stands as one of the very few places in the world where a feat of such magnitude has been accomplished.
Perhaps, the most controversial destination in Poland is the Auschwitz-Birkenau Cancentration Camp, which bore witness to an estimated 1.5 million people who were starved, forced into labor, tortured, and murdered by the Nazis during the height of the Holocaust. Over the years, the camp has become a worldwide symbol of terror and has served as a place of pilgrimage for survivors, their families, and those who want to pay their respects. One may still see there the gas chambers where many Jews were systematically exterminated as part of Hitler's "Final Solution," as well as the ponds where their ashes were unceremoniously dumped. It should be noted, though, that it would take several hours to explore the whole site, an experience regarded by many to be one of the most harrowing around.
User blogs:
The Easy Way to Find Your Next Flight
Not everyone has experienced the convenience of looking for and booking air travel online. For some people who are not used to online shopping, or for those learning how to browse for the first time it can be a little intimidating at first. It seems like there are a lot of advertisements telling people where to go to book their flight online, but not many articles that take a step-by-step approach ... Read full Blog post
The biggest problem traveling with Bike
The biggest problem for traveling by bike is Transport to the start and from the end of our trip. As a personal trainer I had no big problem with this but I remember like it was yesterday, especially when they come these hot days, when we were kids (that a few decades ago) the only opportunity we had to practice was to grab our bikes cycling, upload them to the door of our house and out from ... Read full Blog post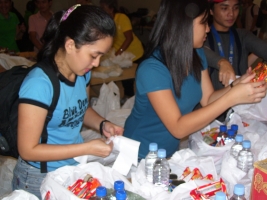 Volunteering for typhoon Ketsana victims
"There's nothing stronger than the heart of a volunteer," says a general in the movie Pearl Harbor. True enough, typhoon Ondoy (internationally nicknamed Ketsana) may have proven its might by destroying hundreds of lives and hundreds more in houses and properties, yet this monster-of-a-calamity did not win in devastating the faith and Good Samaritan-spirit of thousands of men and ... Read full Blog post