48HourVisit.com

Planning a short visit? Check out

48HourVisit.com

, your online guide for short stays and weekend getaways.

Ad
There is no dearth of superlatives when one starts talking about the Slovak experience. The beauty of its assets spills over its borders into the worthy neighbors' lands. It nestles among the Central European countries like Austria, Czech Republic, Poland, Ukraine and Hungary. Danube skirts its south-western front by the capital Bratislava. The Tatras Mountains dominate the north and central parts of the country, giving a rugged look to the skyline. However, this land also features superb lakes and valleys.
Slovakia's relatively peaceful history was shattered by the Second World War following which it was reddened by Russian communism till 1989. It peacefully parted ways with its partner of past - Czech Republic - in 1993. The country reinvigorated its economic life by joining the European Union and NATO in 2004.
The city and the countryside are equally rich with opportunities to see and do. Bratislava is also the largest city and does justice to its status with an equally large number of attractions. The splendor of baroque architecture is radiated from the various houses, palaces and churches. Gothic flavor is noticeable in the churches and castles. The cobblestone streets with pleasant cafes and fountains lead to the restored historical center. St. Martin's Cathedral is topped by the world's biggest crown. The city is surrounded by vineyards around small historical towns.
Moving towards the east, your itinerary would logically lead you to Banska Bystrica and Kosice. Whereas the former was an invaluable mining centre of the Austro-Hungarian Empire's Hungarian part, Kosice is the eastern metropolis. Bystrica also houses a worthy reminder of the Slovak National Uprising. Kosice has an entire array of notable structures like the last gothic cathedral of the world in that direction, a Cathedral Complex in the great historical city centre and Europe's oldest coat of arms.
History is well-preserved in the form of German buildings and Budatin castle in Zilina. Levoca follows suit with the biggest gothic wooden altar of the world in St. James Cathedral. Even the most gothic town of former Czechoslovakia - Bardejov landed in Slovakia's lap. The Tatras National Park, Mala Fatra National Park and Orava region reflect scenic grandeur.
If this is not enough, the avid sightseer should proceed to Banska Stianvica that figures in UNESCO's heritage list due to its baroque, renaissance and mining structures. Others that figure in the list are the village Vlkolinec and Spissky Hrad, one of Europe's biggest castles. While one is hitch-hiking to enjoy the countryside, the national meal 'Bryndzove halusky' made from potato dumplings and sheep cheese 'bryndza' would be the ideal energy source. Trains are the best option to move around beautiful Slovakia.
User blogs:
The Easy Way to Find Your Next Flight
Not everyone has experienced the convenience of looking for and booking air travel online. For some people who are not used to online shopping, or for those learning how to browse for the first time it can be a little intimidating at first. It seems like there are a lot of advertisements telling people where to go to book their flight online, but not many articles that take a step-by-step approach ... Read full Blog post
The biggest problem traveling with Bike
The biggest problem for traveling by bike is Transport to the start and from the end of our trip. As a personal trainer I had no big problem with this but I remember like it was yesterday, especially when they come these hot days, when we were kids (that a few decades ago) the only opportunity we had to practice was to grab our bikes cycling, upload them to the door of our house and out from ... Read full Blog post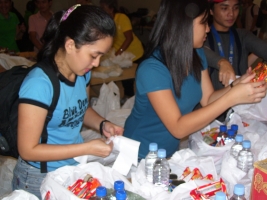 Volunteering for typhoon Ketsana victims
"There's nothing stronger than the heart of a volunteer," says a general in the movie Pearl Harbor. True enough, typhoon Ondoy (internationally nicknamed Ketsana) may have proven its might by destroying hundreds of lives and hundreds more in houses and properties, yet this monster-of-a-calamity did not win in devastating the faith and Good Samaritan-spirit of thousands of men and ... Read full Blog post