48HourVisit.com

Planning a short visit? Check out

48HourVisit.com

, your online guide for short stays and weekend getaways.

Ad
Switzerland Travel Guide

/
Europe
/
Switzerland
/ Introduction
Nestled in the lap of lofty peaks of Alps and Jura, Switzerland is a mountain sports paradise. This land locked country located at the heart of European continent is bordered by France on the west, Italy on the south, Austria on the east and Germany on the north. While this land has a personality of its own, it is generous enough to allow one to experience the essence of France, Italy and Germany as well.
Lofty mountains bordering the country have contributed to fend it from political and military turmoils facing Europe in the history. Remarkably, Switzerland was not a party to either World War I or World War II. In present day world polity, Switzerland is known for its neutrality. Geneva, Switzerland's second largest city, is the headquarters of the United Nations.
A large part of the country's landscape is dominated by Alps, almost eternally covered with snow. The mountain's highest peak in Switzerland is Dufourspitze at 4,634 m. The country is also home to some of the largest glaciers of this majestic mountains, in the Valais and Bernese Alps. The 23 kilometer long Aletsch Glacier is a UNESCO World Heritage Site.
Being an alpine country, skiing is a popular winter sports in Switzerland. There are many places in Switzerland which offer this luxury, some of the important ones being Crans-Montana, Davos, Grindelwald, Gstaad, Portes du Soleil, Saas-Fee, Samnaun, St. Moritz, Verbier and Zermatt. Other popular mountain sports are hiking, ice climbing, snowboarding, glacier walking and snow-polo. Lake cruise in Lake Zurich, Lake Geneva and Lake Constance in the backdrop of picturesque landscape is an unforgettable experience.
Zurich is the largest city of Switzerland. Grossmunster Cathedral, Fraumunster and the Swiss National Museum are important landmarks of the city. The city offers the best nightlife in Switzerland. Geneva, the country's second largest city, is best known for its penchant for arts and culture. The Cathedrale de St Pierre is an excellent example of Romanesque architecture. Cathedrale Notre-Dame and the Musee Olympic are important attractions of Lausanne. This city is also headquarters of International Olympic Committee (IOC).
Berne, the capital city of Switzerland, on River Aare is famous for Zeitglockenturm, a 13th Century clock tower. The city has a well preserved old town, reflecting its ancient charm. Lugano, located at the southern tip of the country, is a favorite destination for those wishing to see Italian speaking Switzerland.
User blogs:
The Easy Way to Find Your Next Flight
Not everyone has experienced the convenience of looking for and booking air travel online. For some people who are not used to online shopping, or for those learning how to browse for the first time it can be a little intimidating at first. It seems like there are a lot of advertisements telling people where to go to book their flight online, but not many articles that take a step-by-step approach ... Read full Blog post
The biggest problem traveling with Bike
The biggest problem for traveling by bike is Transport to the start and from the end of our trip. As a personal trainer I had no big problem with this but I remember like it was yesterday, especially when they come these hot days, when we were kids (that a few decades ago) the only opportunity we had to practice was to grab our bikes cycling, upload them to the door of our house and out from ... Read full Blog post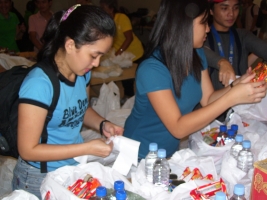 Volunteering for typhoon Ketsana victims
"There's nothing stronger than the heart of a volunteer," says a general in the movie Pearl Harbor. True enough, typhoon Ondoy (internationally nicknamed Ketsana) may have proven its might by destroying hundreds of lives and hundreds more in houses and properties, yet this monster-of-a-calamity did not win in devastating the faith and Good Samaritan-spirit of thousands of men and ... Read full Blog post