48HourVisit.com

Planning a short visit? Check out

48HourVisit.com

, your online guide for short stays and weekend getaways.

Ad

The Glossary

Joe - "a term usually used to connote an American citizen. it is popularly used by foreigners."
Hawaii Travel Guide

/
United States
/
Hawaii
/ Introduction
For those who love to have a tryst with nature at its wildest best, Hawaii is the place to come. Here one can behold the fury of Pele, the Goddess of volcano in Hawaii. She shoots molten earth into the air, causes and controls the flow of lava. She is the creator, she is the destroyer. She is revered and feared all across the island of Hawaii. Her abode, the Kilauea Volcanic System, is the most active volcano system in the world.
Located at the middle of the north Pacific Ocean, Hawaii is a state of the United States of America. In fact, it is an archipelago of a group of volcanic islands, six of which are of tourist importance. These are Kauai, Oahu, Molokai, Lanai, Maui and Big Island. Human history in Hawaii dates back to 1500 years back. In 1791, Kamehameha, a local warrior, united the various islands of Hawaii into one kingdom. Hawaii became a territory of the United States in 1959.
Kauai is the northernmost island of Hawaii. Also known as 'Garden Isle', Kauai is breathtakingly beautiful with its lush landscape and the sharp cliffs of Mount Waialeale. Na Pali Coast is favorite spot for hiking, while Poipu is good for swimming and sunbathing. Waimea Canyon, about 3000 ft deep, presents a dramatic view. Oahu is home to Hawaii's capital city, Honolulu. Waikiki Beach, ideal learner's spot for surfing, is one of the most popular in Hawaii, while Hanauma Bay is favored for snorkeling. Oahu has a pulsating nightlife.
Molokai, one of the least developed of the group, provides unadulterated Hawaiian experience. Its North Shore features the tallest sea cliffs of the world. Papohaku, a white sand beach, and Halawa Valley are popular attractions here. Island of Lanai has excellent golfing facilities at Koele and Manele. Acrobatics of dolphins at Hulopoe Bay present a stunning sight.
Maui is known for volcanic crater of Haleakala mountain at an altitude of 10,000 ft. There is a good chance to sight humpback whales at Lahaina. Maui offers facilities for golf. The approach road to Hana, a small village in Maui, is one of the most picturesque in the world, being lined with numerous waterfalls on either side. Hawaii's Big Island, the largest island of the archipelago, is home to Hawaii Volcanoes National Park, where the live Kilauea volcano is located.
Hawaii photography
User blogs:
The Easy Way to Find Your Next Flight
Not everyone has experienced the convenience of looking for and booking air travel online. For some people who are not used to online shopping, or for those learning how to browse for the first time it can be a little intimidating at first. It seems like there are a lot of advertisements telling people where to go to book their flight online, but not many articles that take a step-by-step approach ... Read full Blog post
The biggest problem traveling with Bike
The biggest problem for traveling by bike is Transport to the start and from the end of our trip. As a personal trainer I had no big problem with this but I remember like it was yesterday, especially when they come these hot days, when we were kids (that a few decades ago) the only opportunity we had to practice was to grab our bikes cycling, upload them to the door of our house and out from ... Read full Blog post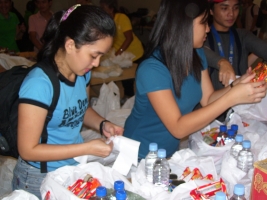 Volunteering for typhoon Ketsana victims
"There's nothing stronger than the heart of a volunteer," says a general in the movie Pearl Harbor. True enough, typhoon Ondoy (internationally nicknamed Ketsana) may have proven its might by destroying hundreds of lives and hundreds more in houses and properties, yet this monster-of-a-calamity did not win in devastating the faith and Good Samaritan-spirit of thousands of men and ... Read full Blog post