48HourVisit.com

Planning a short visit? Check out

48HourVisit.com

, your online guide for short stays and weekend getaways.

Ad
Luxembourg Travel Guide

/
Europe
/
Luxembourg
/ Introduction
In the prosperous part of Western Europe, Luxembourg stands out due to its high GDP and peaceful state of affairs. An enviable standard of living maintained in this landlocked Grand Duchy is the result of wise economic policies. Surrounded by industrial and financial giants like Germany, France and Belgium, Luxembourg does justice to its status and location. The country is more than a thousand years old but gained full autonomy in 1865. It was the site of a major confrontation known as the Battle of the Bulge during the Second World War after Germany crushed it on its march to the Channel. It has since been on board many important bodies like the Benelux Union, NATO and the European Union (Founding member).
The capital forms the heart and hearth of this compact nation. A good view of the city can be had on the way to Grund and Kasematten. On reaching the city, move to the older part where your steps count as the 'Wenzel Walk'. In about 100 minutes, one can see 1000 years of compelling history. The evolution through a millennium is on display in the Luxembourg City History Museum using modern interactive multimedia. A UNESCO heritage list feature is the network of underground fortifications called the Bock Casemates. They were spread over 14 miles, reaching 131 feet at times. Taking a walk at the promenade known as 'Europe's most beautiful balcony' at Chemin de la Corniche is a charm. The panoramic views of the two river valleys and downtown cobblestones streets can be had from Citadelle du St. Espirit.
A visit is due at The National Museum of Military History at Diekrich where you get to know the details of the battle that was the bloodiest for the American army. General Patton Memorial Museum in Ettelbruck celebrates the US army's victory over the German forces. If the soldier's memoirs and artifacts make you thoughtful, freshen up at the brilliant Butterfly Garden at Grevenmacher. Alternatively, the Ardennes presents spellbinding scenery which can be enjoyed by bikers on any of the fifteen routes.
Hikers have the chance of their lifetime to explore this 'Little Switzerland' and relax in the lap of marvelous rock formations, splendid waterfalls and orchard valleys of The Good Land. The produce of these farms can be relished at the numerous Michelin-star restaurants and remembered with the porcelain dishes bought at souvenir shops.
User blogs:
The Easy Way to Find Your Next Flight
Not everyone has experienced the convenience of looking for and booking air travel online. For some people who are not used to online shopping, or for those learning how to browse for the first time it can be a little intimidating at first. It seems like there are a lot of advertisements telling people where to go to book their flight online, but not many articles that take a step-by-step approach ... Read full Blog post
The biggest problem traveling with Bike
The biggest problem for traveling by bike is Transport to the start and from the end of our trip. As a personal trainer I had no big problem with this but I remember like it was yesterday, especially when they come these hot days, when we were kids (that a few decades ago) the only opportunity we had to practice was to grab our bikes cycling, upload them to the door of our house and out from ... Read full Blog post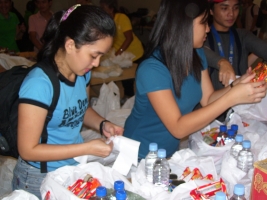 Volunteering for typhoon Ketsana victims
"There's nothing stronger than the heart of a volunteer," says a general in the movie Pearl Harbor. True enough, typhoon Ondoy (internationally nicknamed Ketsana) may have proven its might by destroying hundreds of lives and hundreds more in houses and properties, yet this monster-of-a-calamity did not win in devastating the faith and Good Samaritan-spirit of thousands of men and ... Read full Blog post